Lucky Escape - Twice
A pair of amateur-night close shaves for me this evening riding home - two assassination attempts by the same driver. Not deliberate as such, but indicative of a crass, thoughtless attitude to anyone else on the road.
First up, he edged alongside me in the narrow next to the traffic island on the way into this roundabout, passed me by driving over the mini-roundabout itself, and left me with no-where to go on the exit: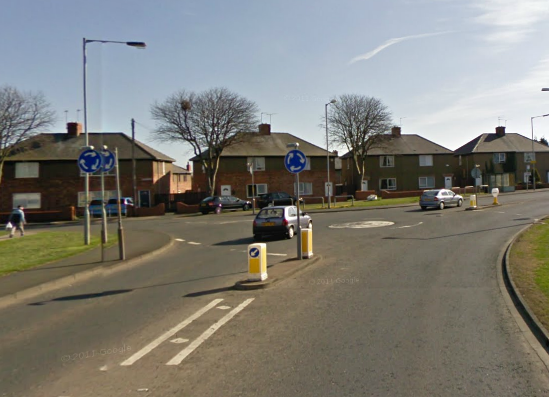 Then about half a mile later, I'd overtaken him, and was on another, bigger roundabout, with two lanes. I was in the outside, when he overtook and swerved into my path to avoid a car that'd pulled out on the pair of us.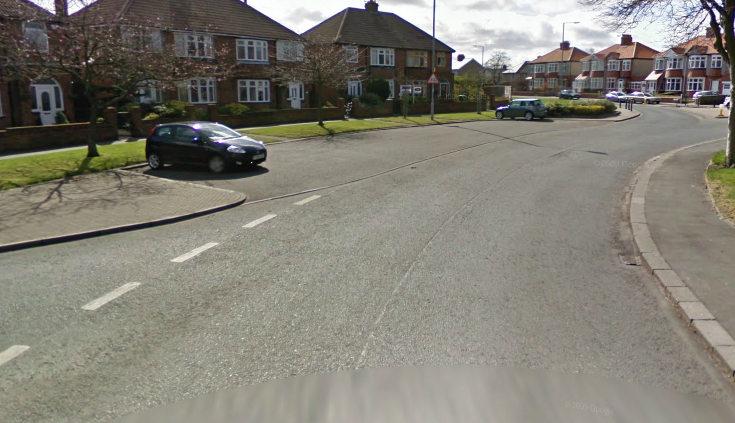 I caught him a couple of hundred metres down the road, stopped at a pedestrian crossing. Remaining calm, I asked if he thought he'd pass his driving test overtaking like either of those examples. I got a very sheepish shake of the head and a mumbled "no".
OK - so what?
First up . . . I'd got caught in a weak, secondary position on the way into the first roundabout by a stream of cars on the approach. Anticipating the need to be further out further before the roundabout, so as to close the road off to anyone wanting to overtake would have helped.
I'd overtaken Mr Careless to make the point. Actually it's a pretty stupid point to make - if someone drives like that, you want them in front of you, where you can see them.
The big two-lane roundabout? I wonder why it needs two lanes for cars in the first place?
Basically my route through Blyth is a series of eight roundabouts, and untold numbers of traffic island pinch points, with speed limits from 70mph on the approach to the most southerly roundabout, 40mph for the next two, and then the rest at 30mph.
This route is actually the focus for Sustrans' Blyth Connect2 project to improve the traffic-free alternatives. On days when I'm just bimbling through, I use these new routes, and jolly nice they are too. Except they give way to every minor road they cross, include tortuous toucan-crossings across the same road . . . and back again . . . and over again within less than a mile, the odd inexplicable switchback turn, and no apparent connectivity planned to link with the traffic-free route along Blyth beach at their southern end. Oh, and street hardware right in the middle of the cycle path: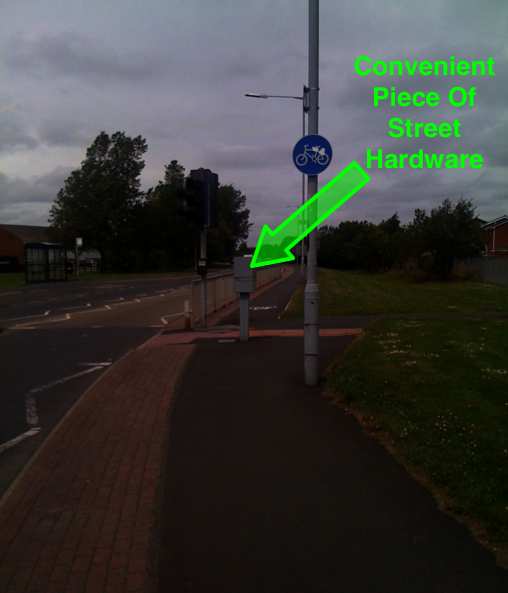 So right in concept, yet its details like these that must be addressed if cycling is to become safe, direct and convenient - the three ingredients needed to make it a truly mainstream form of transport.