Three Go Mad In East Anglia
This is a story of what happens when a simple idea gets taken just that one step too far. Four years ago we did the Dunwich Dynamo - 120 or so miles in the dark, leaving North London at dusk, and arriving on the Suffolk coast some time the next morning for a fried breakfast, a sleep on the shingles (just so comfy after the ride & lack of sleep), before Von Smallhaussen arrived to give the three of us a lift back to That London.
She said that we all seemed so Zen & chilled after the ride that she wished she could come next year . . . but she was afraid of being left behind. So I bought a tandem from the '70s for fifty quid on Ebay, did it up with some nice modern-ish components, and for the last two years we've been the Big Yellow Fairy Light Bike.
The problem has always been getting back from the beach though - the bus ride seems to take for ever, and there's always a huge worry about what state your bike's going to be in once it comes out of the back of the lorry.
So this year we hatched an alternative plan: The Dunwich Dynamo Plus: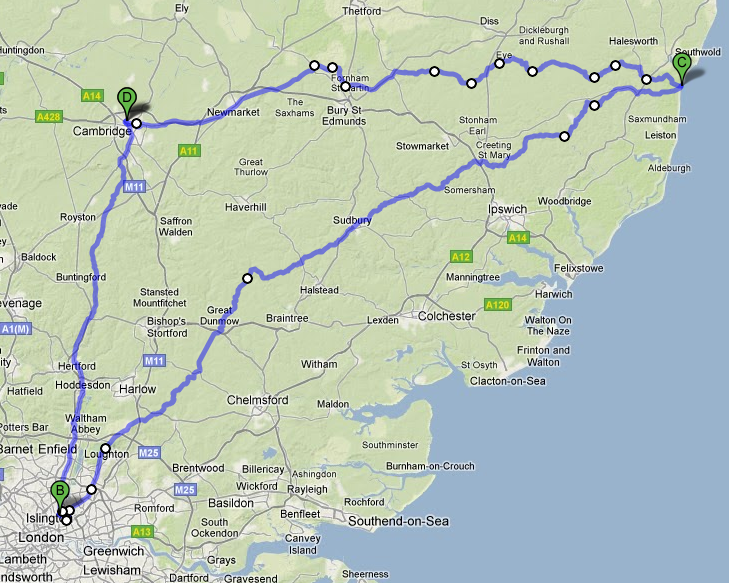 The plan was simple:
Leave Algernond's place in Cambridge on Saturday morning, and ride the fifty or so miles to Von Smallhaussen's in London.
Have a good rest and some food before joining the Dynamo at about 8:30pm to ride the 120 or so miles to Dunwich. Eat a huge fried breakfast, have a quick swim, change underwear, and get a good few hours sleep on the beach.
Get up about lunch time, have a huge lunch, then cycle the easy 80 ish miles back to Cambridge, arriving in time for an early supper and a couple of pints at the pub.
What could be easier?
The cast for this easy weekend's cycling was to be five of us - me, Tom, Algernond, Tall Robbie, and Fat Rob Who's Now Looking Quite Svelte Due To All The Cycling He Does Now (let's just call him Fat Rob), with Von Smallhaussen as the support team, and a cast of thousands of extras for the overnighter. It didn't quite work out that way - Tall Robbie did an Ironman two weeks ago (11:59:30!!!), and didn't have enough in the marriage bank account to disappear for a whole weekend (but could ride most of the first leg), and Fat Rob had recently had two accidents on his bike and wasn't up for the whole gig - just the Dynamo itself. So there were three of us up for the whole ride.
It was touch and go whether or not we were going to do it at all though - the weather forecast was grim . . . the first leg looked like being in a monsoon, and the return to Cambridge against a headwind from hell.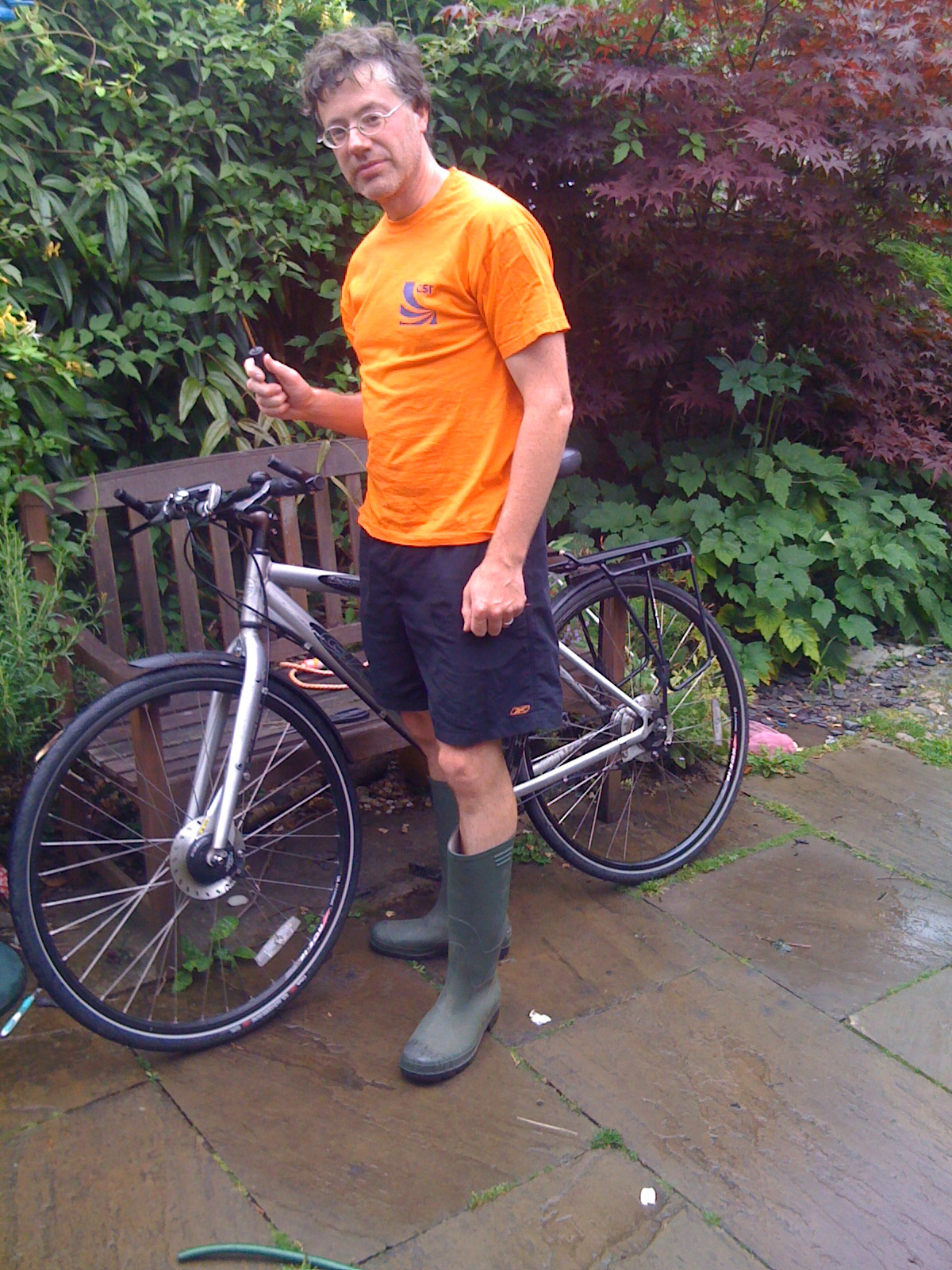 But in the end, we figured that these would just be character building . . . though when the weather delivered on Saturday morning, I'm not sure that everyone else would agree. Basically, an hour out from Cambridge, the headwind picked up and it started pishing down. So we were slower than intended and got a really, really good soaking. By lunch time, we stopped, and persuaded a pub to open & let us in for coffee. They also served sponge puddings, which it would have been rude not to sample: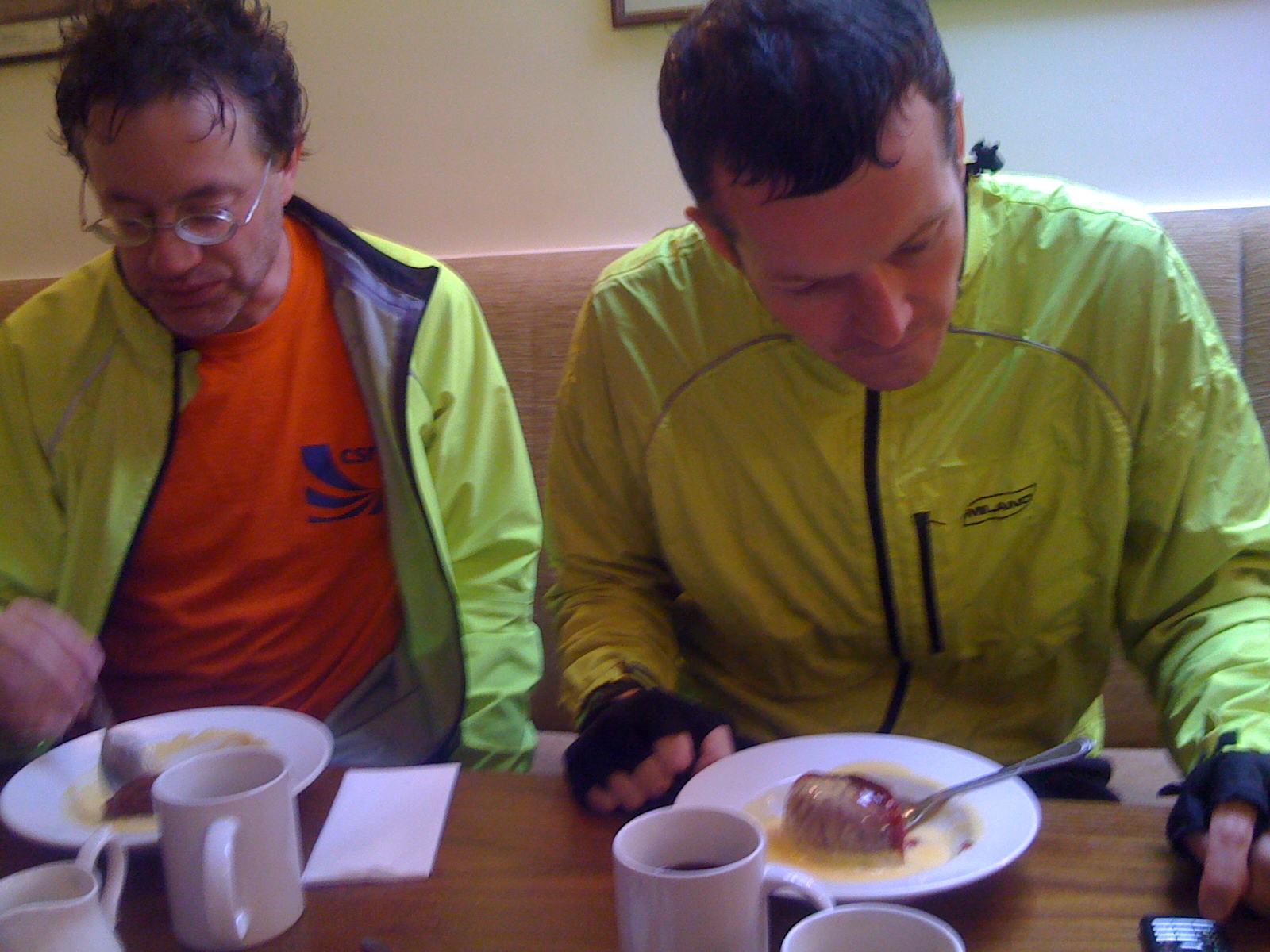 The weather cleared once we got near London, and most of the clothes we were wearing were dry-ish (apart from shoes & socks) by the time we got to Von Smallhaussen's - over two hours later than intended. So all we had time for was some more cake, showers, and draping still damp clothes over her whole house. In fact, everything was a whole lot wetter than it seemed, and before we left there was a frantic round of drying off with Von's hair dryer. After drying out my Sealskinz socks, it may never be the same again.
The we headed off for the second leg, accompanied by Von Smallhaussen for the first few miles. I really couldn't believe the crowds this year - if last year's Dynamo had ~1,200 people taking part, then this year's had a whole lot more.
The first 15-20 miles felt more like a Critical Mass ride, with so many cyclists on the road that the bus lane and half the lane next to it was frequently full of riders.
The weather for the night was mercifully dry and with a very flattering tailwind, even if it was a little chilly. Despite what you might think from the above picture, this isn't a race, and we took the time to chat to other riders, including a guy called Leo who was riding on a Boris Bike.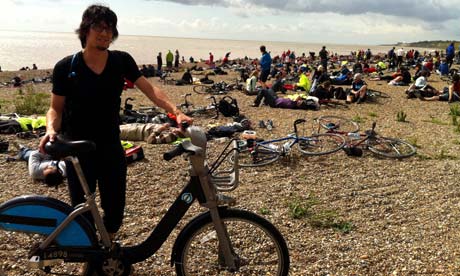 I took the usual obligatory pictures of the sunrise . . .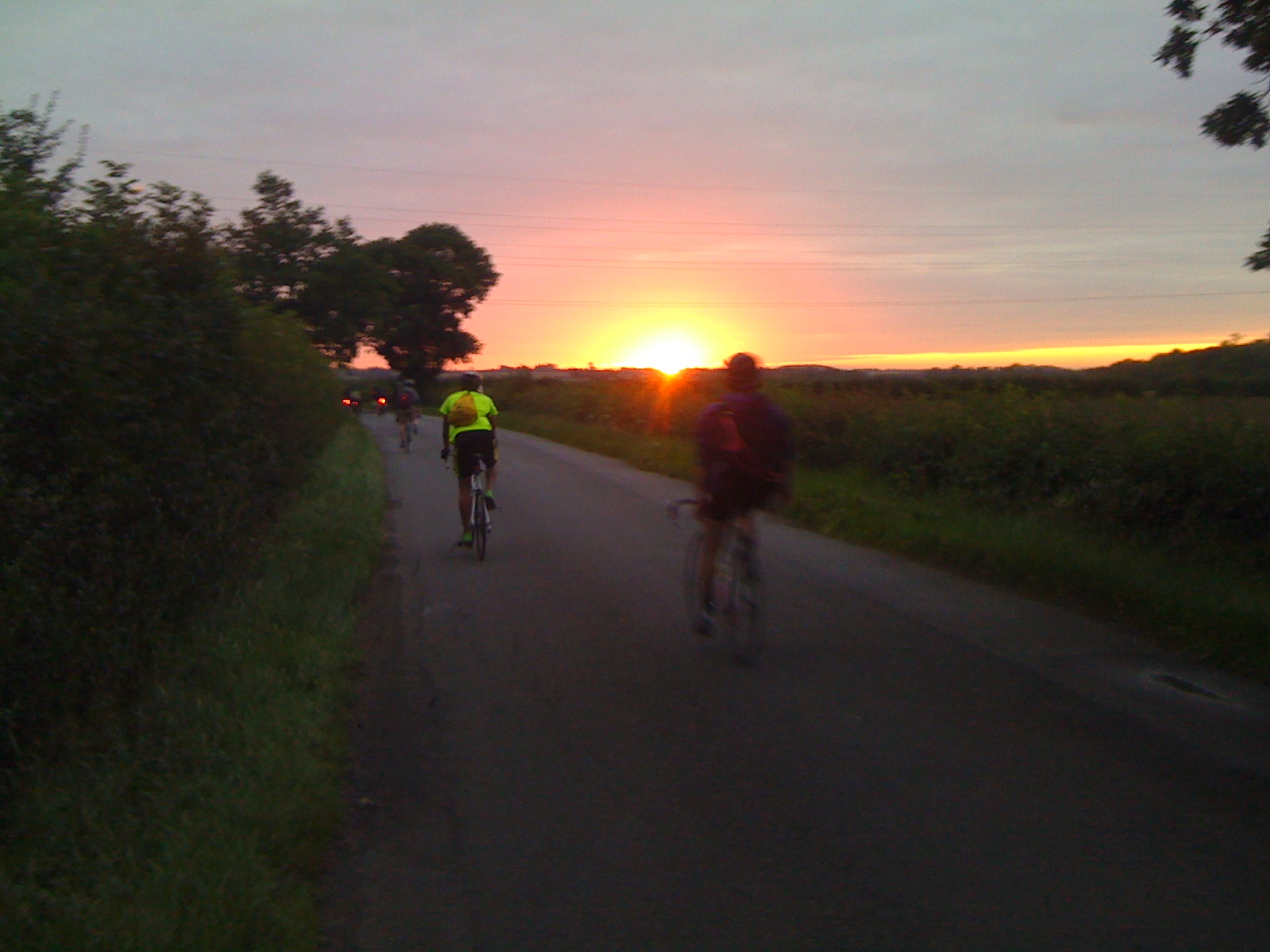 . . . and the bodies on the beach - Algernond's Japanese wife said these always look like a tsunami has hit a coastal bike shop . . .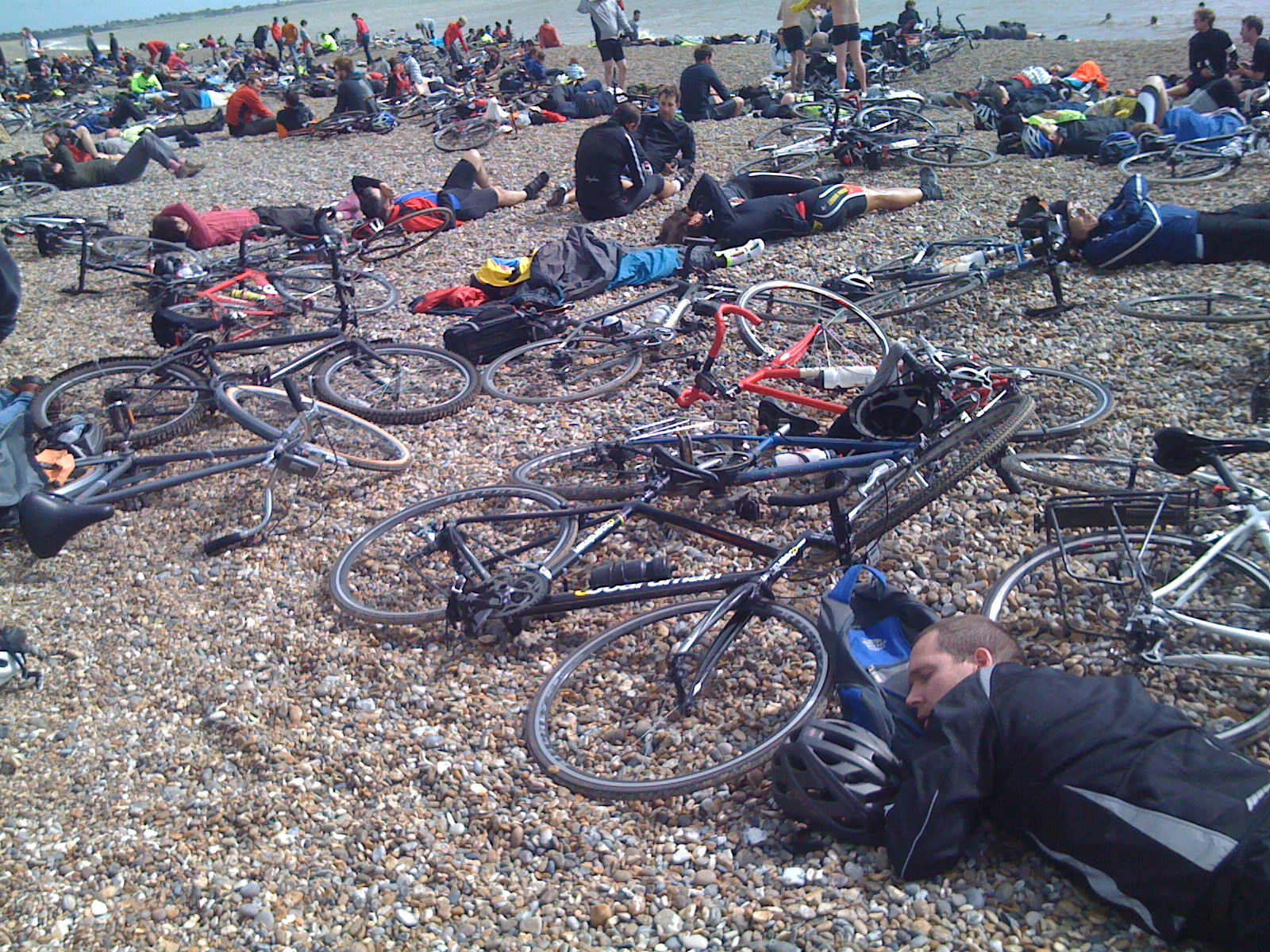 . . . and the Bloke On The Strangest Bike . . .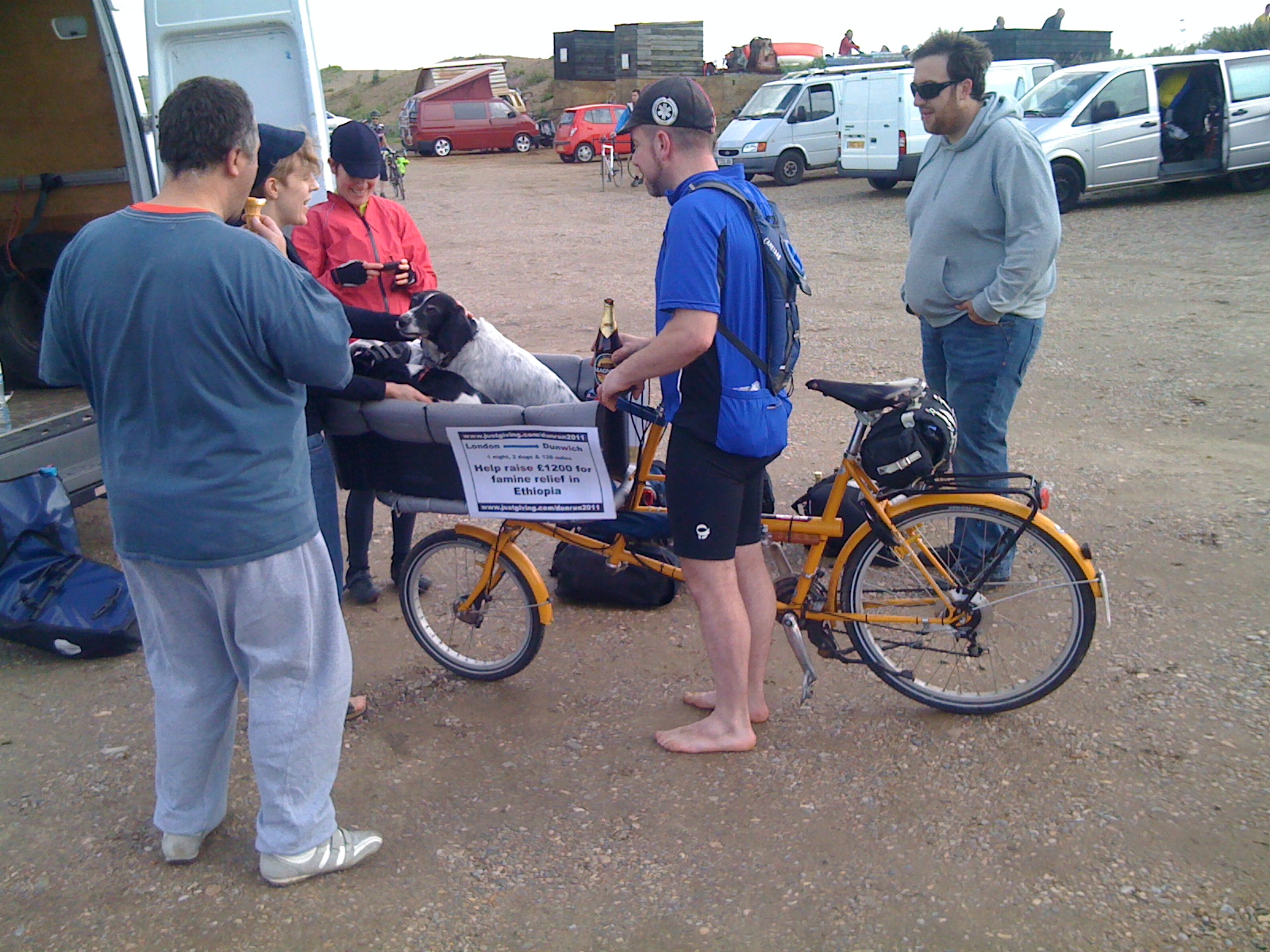 . . . yes, he rode with the dogs in the basket.
With one eye on the weather, we decided not to stick to the original plan, but to get just a couple of hours sleep & head off as early as possible. With luck, maybe we'd get back to Cambridge before the wind really picked up and the rain started in the early afternoon.
So by 10:15, we were back on the bikes and feeling decidedly OK, despite the lack of sleep and the 170 miles we'd covered in the previous 24 hours. But progress was painfully slow - there was a light headwind, and we struggled to stay close enough together to take advantage of the fact that there were three of us.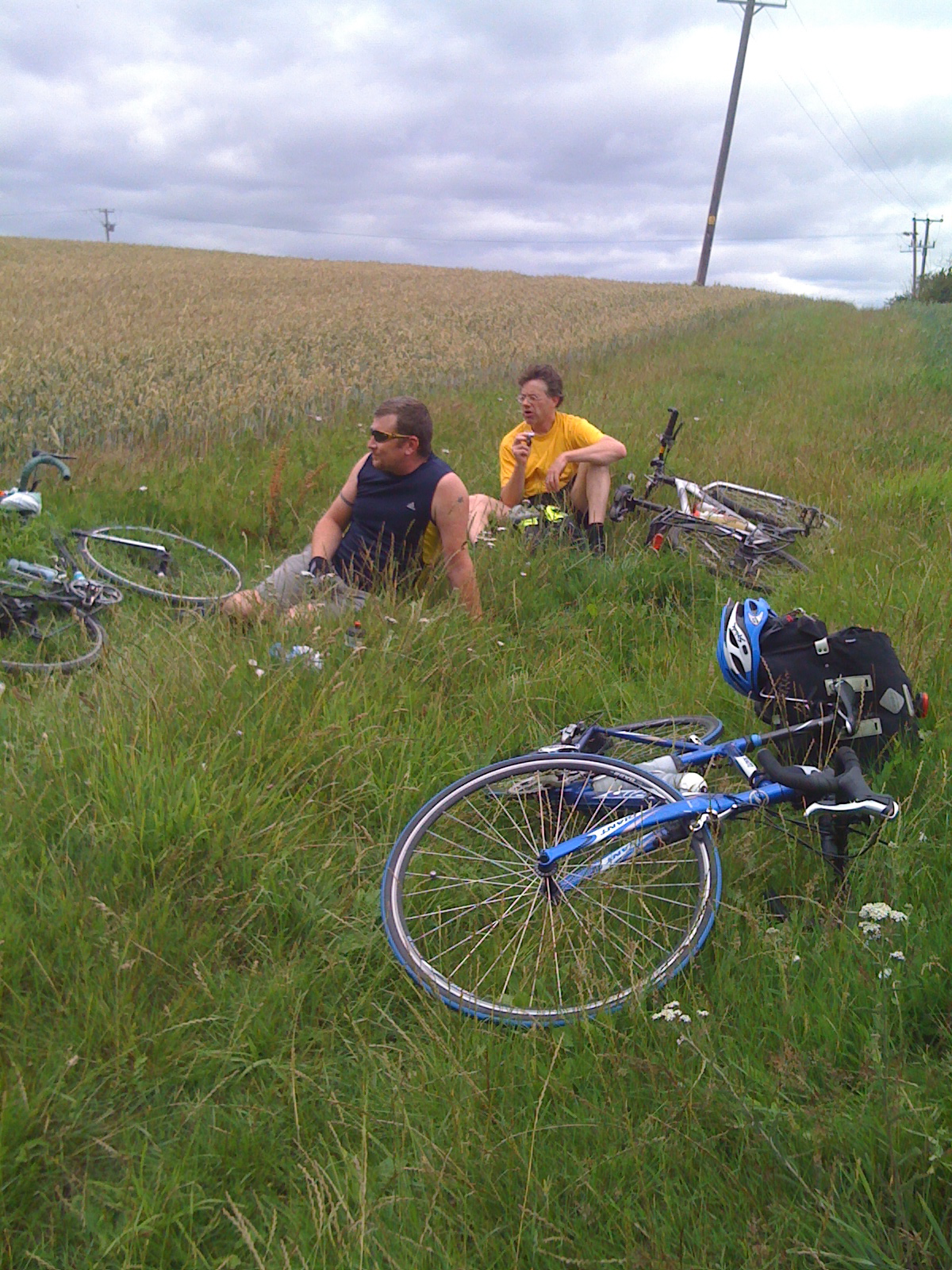 By 1pm, we stopped at a pub for lunch. To be honest, given the way we looked I was surprised that they even let us in. Then after we set off again, the showers started - heavy, sudden downpours that we were in no mood to face down, so we hid from the heaviest in a bus shelter: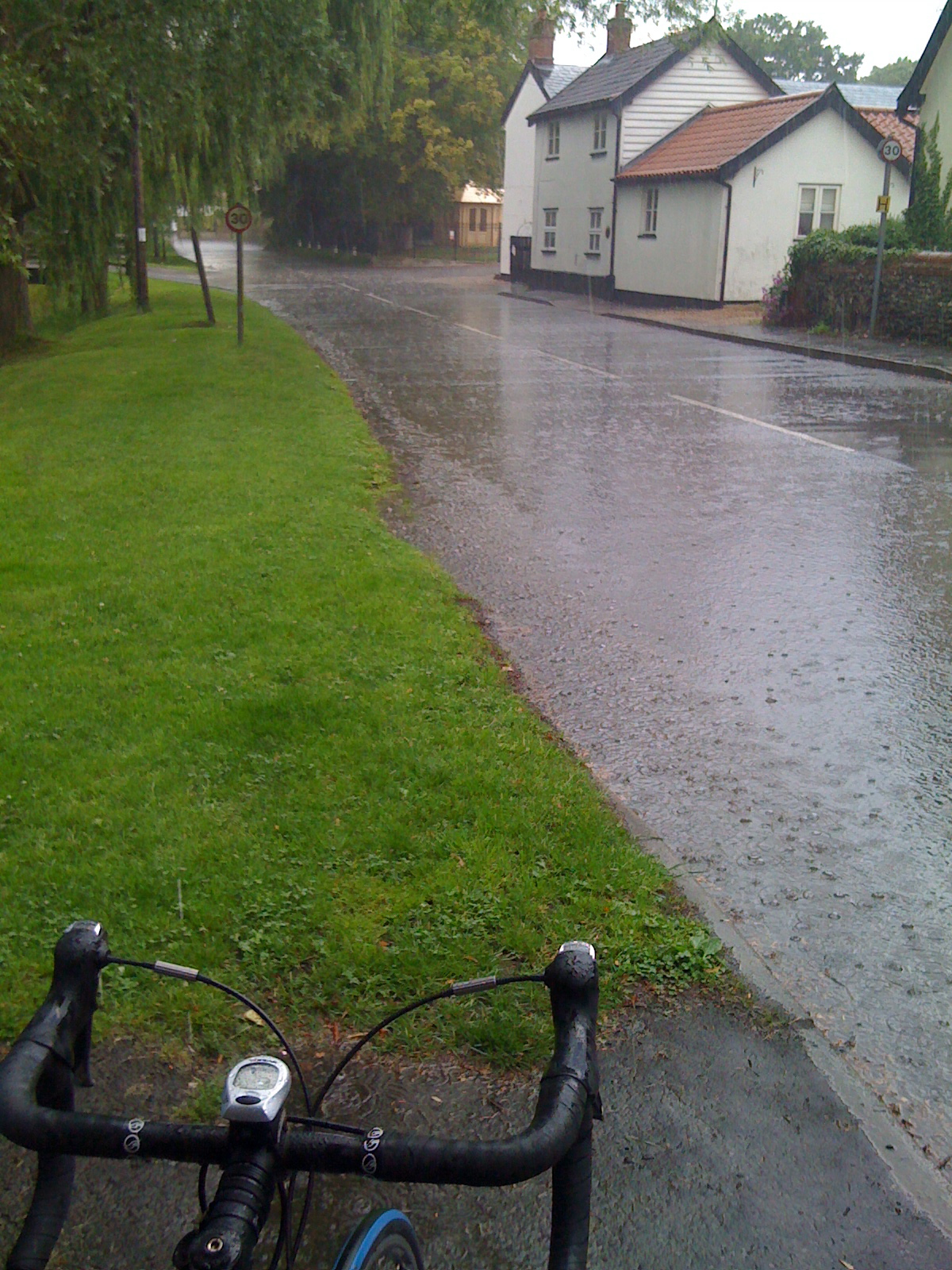 . . . where Tom took advantage of the situation . . .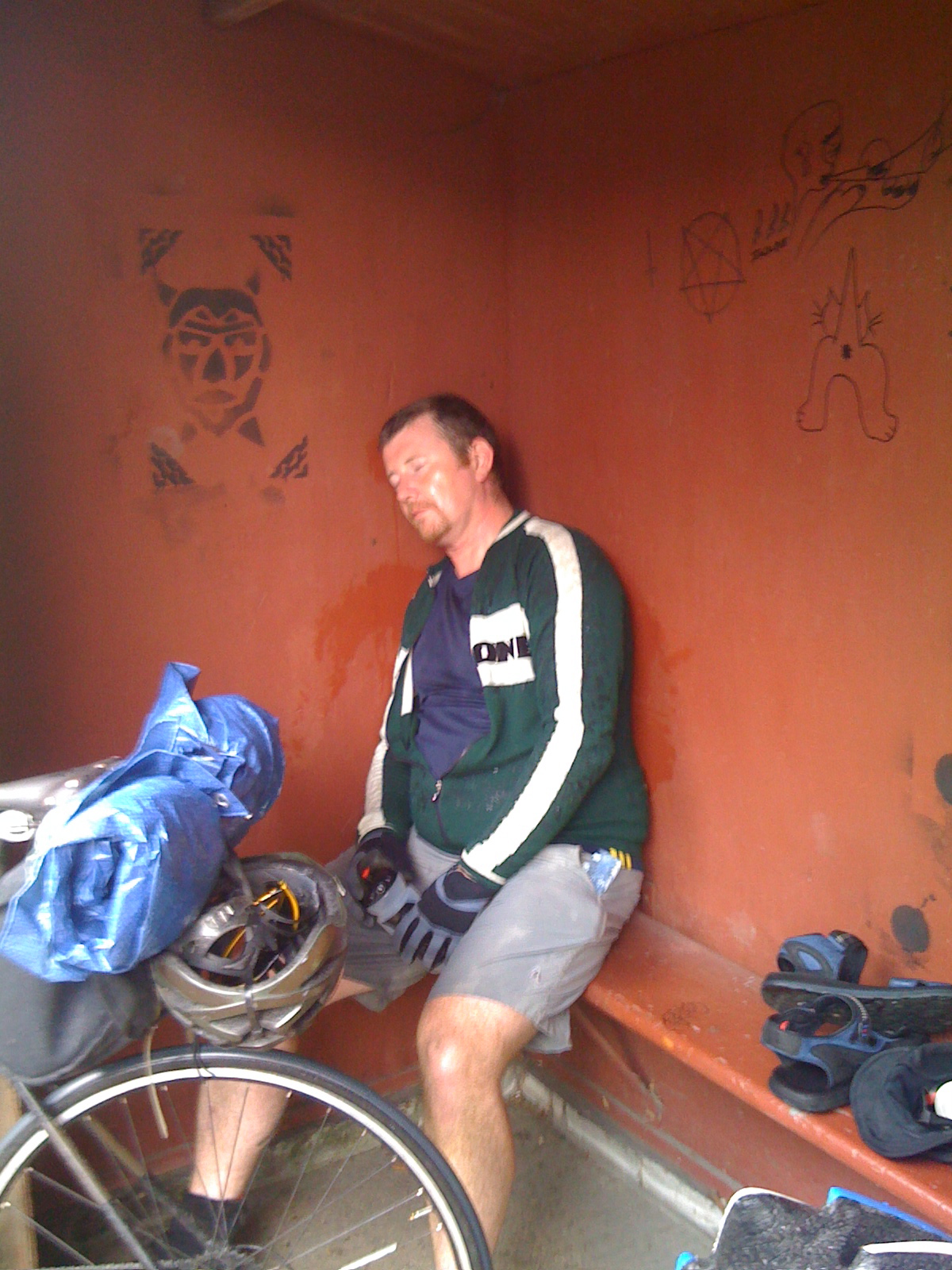 . . . and Algernond just couldn't stop yawning . . .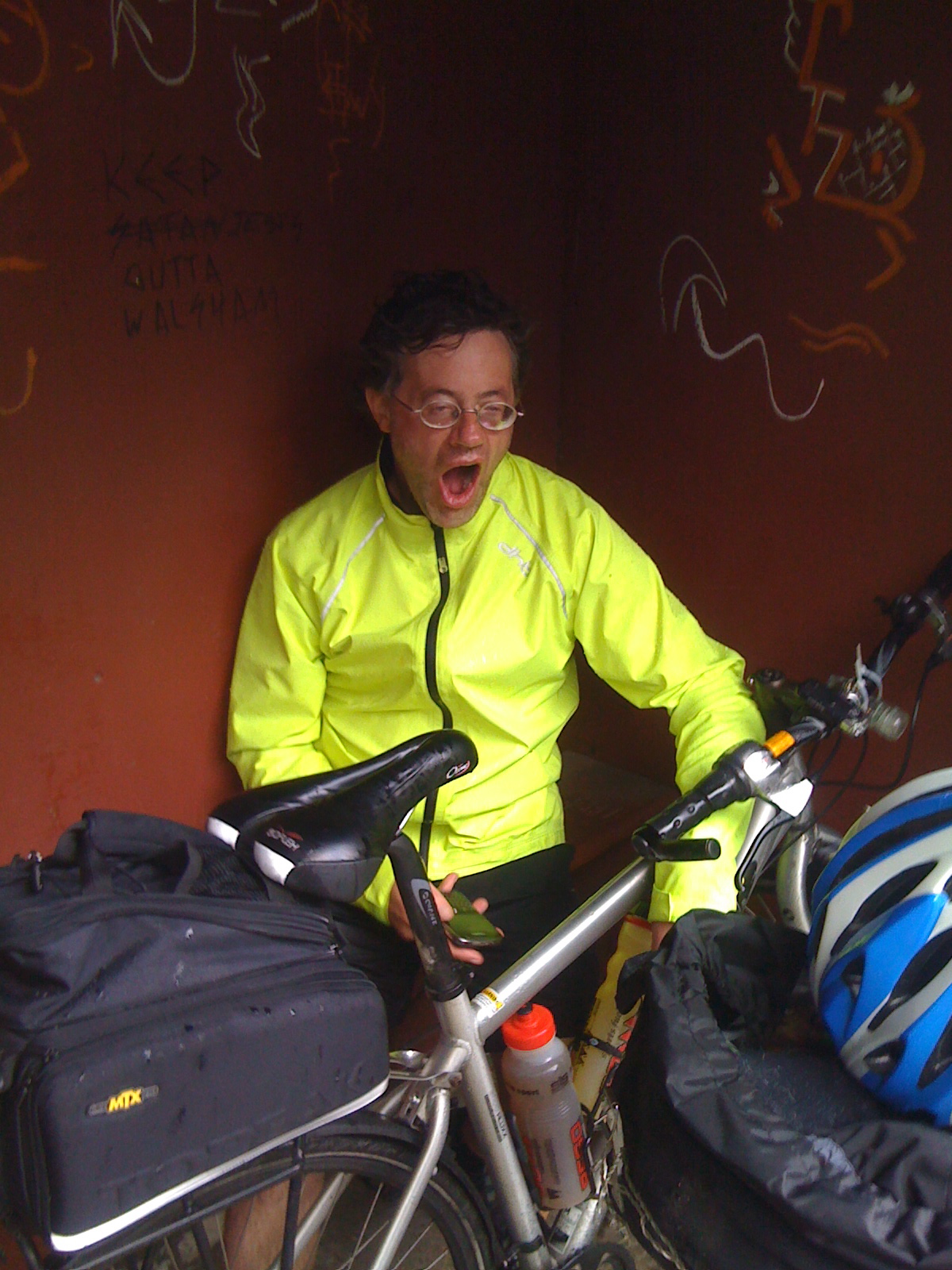 Once the rain stopped, we headed off again. I don't remember much of those last thirty miles - just pain from every part of my body, an absolute killer headwind for the last 15 miles through Newmarket & on to Cambridge, and some really terrifying roads - three miles on the A143 from Ixworth to Great Barton with traffic that wasn't going to slow down and wait 'till it was safe to overtake cyclists (and where I picked up a slow puncture), and the dead strait B1606 & A1304 either side of Newmarket were particularly bad.
As we were riding into Cambridge, Tom remarked while standing on the pedals to relieve the pressure that he was hurting all over. I started to laugh, and told him that at least he wasn't actually crying yet, though the cobbled streets through the town centre might sort that out. Next thing I knew, he was alongside Algernond, explaining in a hurried, vaguely panicked tone that we had to find an alternative route through. And I'm really glad that we did.
So - 255 miles in 34 hours, with just three hours sleep. Was this a good idea? Up to the last 50 miles, I'd say yes. But after that, it was several hours of slow torture. I think that at several points in that time, each of us would have cheerfully thrown our bikes into a ditch and never got on them again. Also, the traffic in that last session was awful - not particularly heavy, but fast & close enough to put me off riding on those roads again.
Overall, I found this tougher than Ironman (probably the lack of sleep - I got to the point that I was talking to imaginary squirrels again), but doing it with friends was a big help and makes it an experience that I'll never forget. Right now, every time I sit down I'm painfully reminded of it, but I'm sure that the rose-tinted glasses will soon settle into place & all I'll have are the memories of the good times.
See you on next year's Dynamo?