A Sense Of Proportion
This from a post on Demotix.com, about the Blackfriars flashride:
It rather proved the point that if the bikes and the cars are at war perhaps it is only the poor old pedestrian who has a daily battle with both.
Here are some figures from the latest front-line dispatches of the war on the motorist (sic.):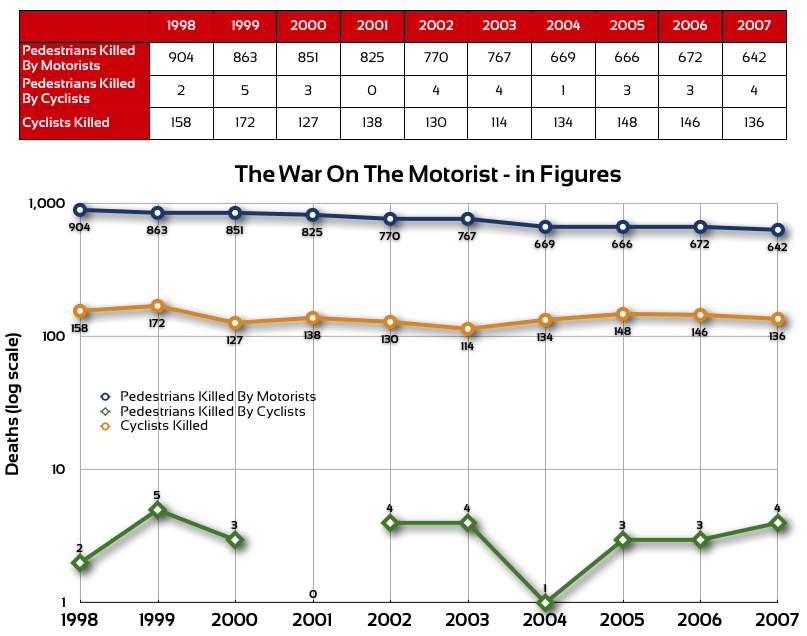 It seems that in the war on the motorist (sic.) the casualties are those on the streets not wearing a couple of tons of armour. And the major hazard by a factor of about 300:1 is motorised traffic.
Its in response to this kind of fact that people are starting to realise that they don't have to sit back & take what TfL deems to be the best road layouts, and that there are some things worth taking action over.
In case you're thinking that Blackfriars is a foreign battle in a faraway city, its implications are profound. In the UK, there really is a war on the non-motorist that's being aided and abetted by government policy that prioritises "smooth traffic flow" over the safety of pedestrians & cyclists. This one bridge in London has important implications for the whole of the UK and how local authorities treat vulnerable road users.