It Got Built. Why Didn't They Come?
I had a meeting in Cramlington on Thursday (I was getting my photo taken with a parrot as it happens - sometimes my job is just plain strange!) Naturally, I rode a bike there, and used Bikehub and Cyclstreets to navigate in the unfamiliar territory.
I rank both these apps as game-changers, as they have detailed knowledge that can help plan this kind of journey in ways that constantly surprise the typical UK cyclist who's used to crappy, car-centred roads. And Thursday was no exception - look what Cramlington has (sorry for the shaky focus - I didn't have time to stop):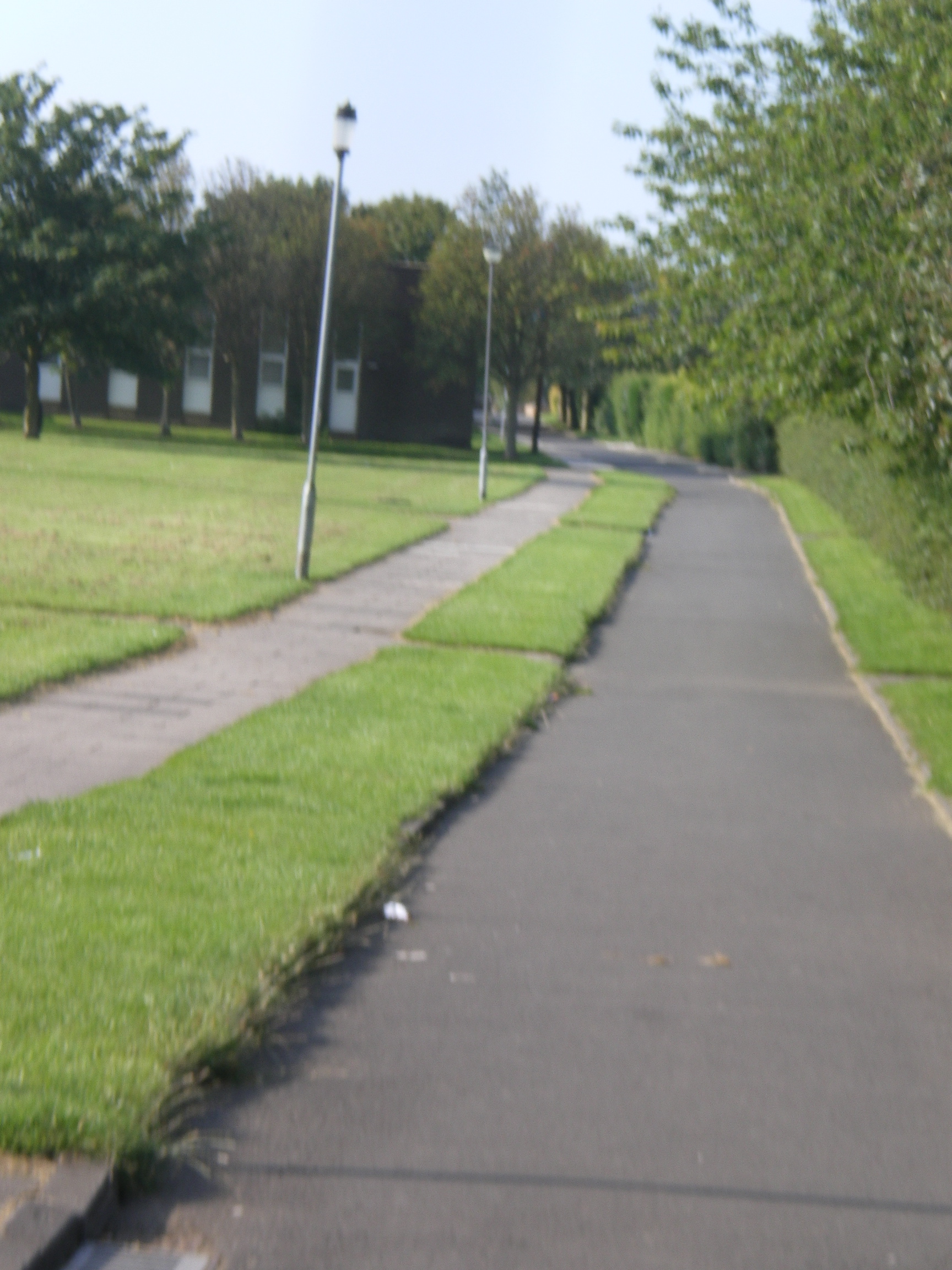 That's a dedicated, segregated cycle route, wide enough for two-way traffic, with a lovely smooth surface, and a separate footpath. And here's another one - this one's surface was a little broken up in places, and someone from the council has been round marking up these defects for repair. No, really: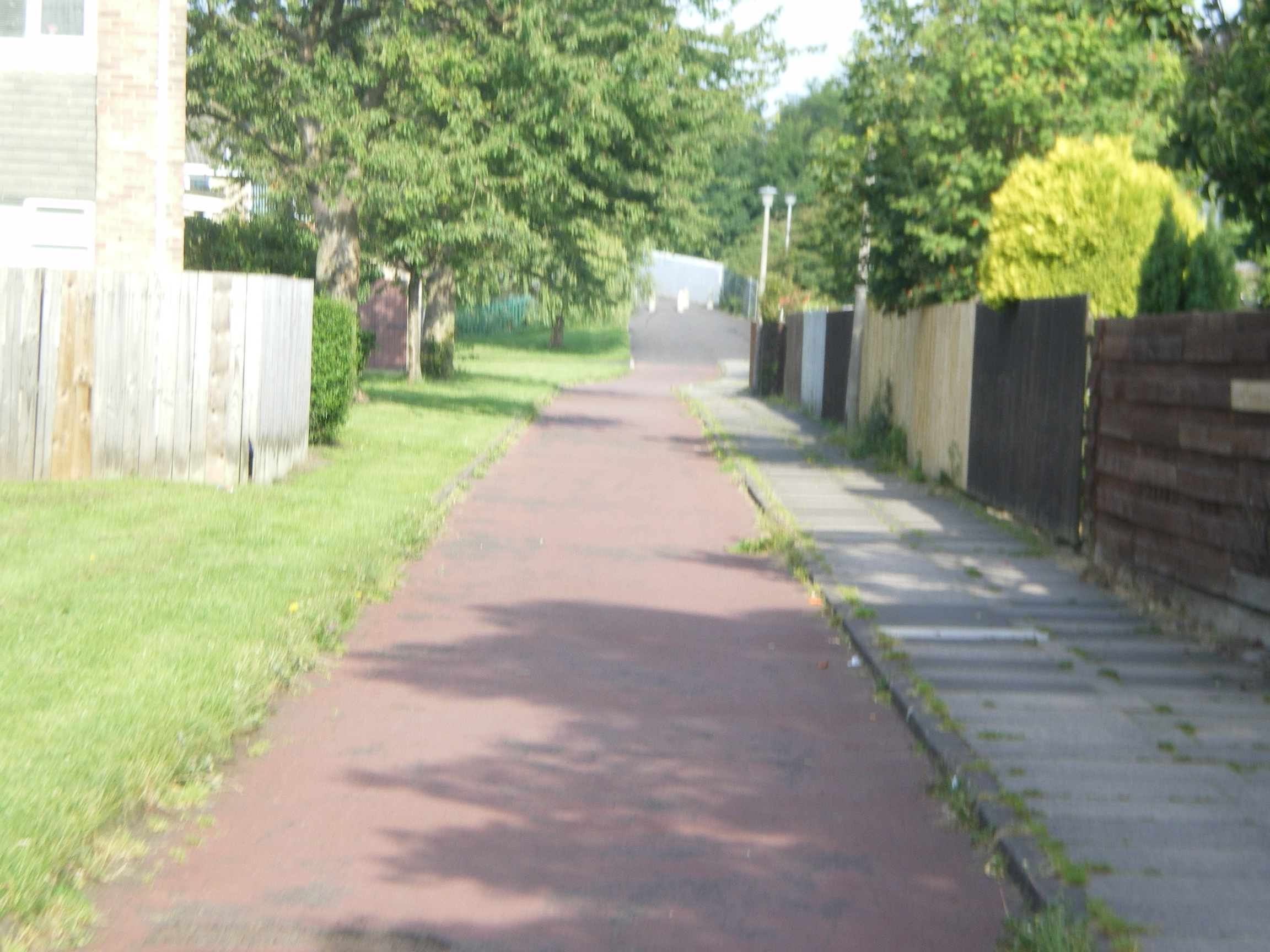 In fact, Cramlington has a complete grid network of these routes, with a grid spacing of around 500m - shown here as blue dotted lines:
This is really high quality infrastructure, covering the whole of the residential area (green), but not the industrial estate (pink):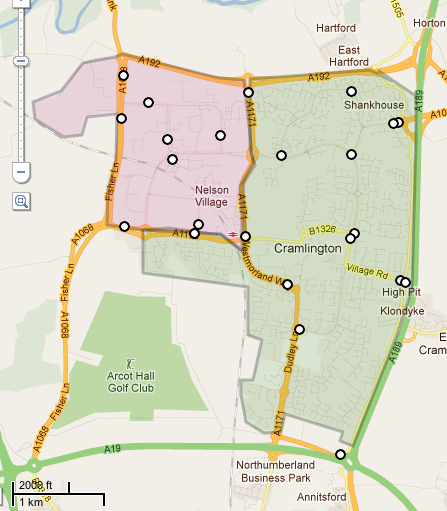 So how come I only saw two other people on bikes, despite the fact that there was plenty of traffic on the roads?
The answer I think is that there's another Cramlington grid: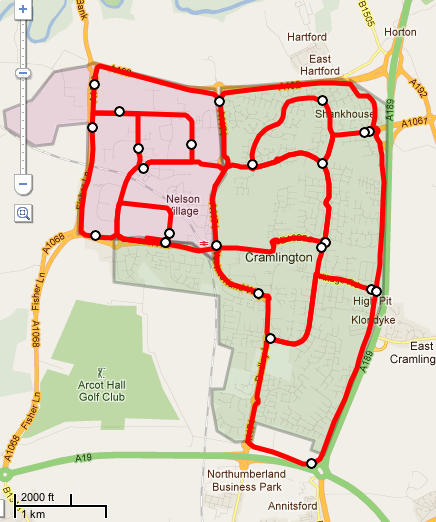 With a grid spacing of ~1,000m, there's a network of easy-to-use, broad, direct roads, and a plethora of high-capacity roundabouts for the junctions.
There's a shopping centre in the town centre (just below the "C" of Cramlington on the map) with a whopping great car park.
And if Nelson Industrial Estate (the pink area on the map) is the major local centre of employment, then you're plainly not supposed to get to work by bike - the cycle grid doesn't go there and the wide, straight roads that accommodate HGV deliveries give drivers very little perception of their actual speed.
Cramlington is similar in size and population to Houten in the Netherlands:
New town from 1979.
A ring road surrounding an area of 3 km across.
Extensive cycle way.
The area within the ring consists of sixteen residential zones.
Car access from one zone to another is possible only via the ring road
Does this explain why in Cramlington, only 1.3% of trips are by bike (see this Sustrans' report - page 63), while in Houten it's 30%?