Leave Your Bike. Not Your Luggage.
I had a couple of meetings in the centre of Newcastle last Friday. I rode in on the Pashley, which now has a set of vast pannier bags fixed to the rear rack - for security, they're cable-tied in place.
Anyway, I chose the bike racks on the Central Station's platform as a suitable place to leave the bike. Having blagged my way through the ticket barriers, I emptied the panniers of my notebook & waterproofs before locking up and heading off to talk about email marketing.
When I got back to my bike, I could see that there was something wrong. It took a second or so to figure it out, but then it clicked. The bastard panniers were missing.
Bah! The things that people steal!
Then I saw the piece of paper Sellotaped to the cross-bar: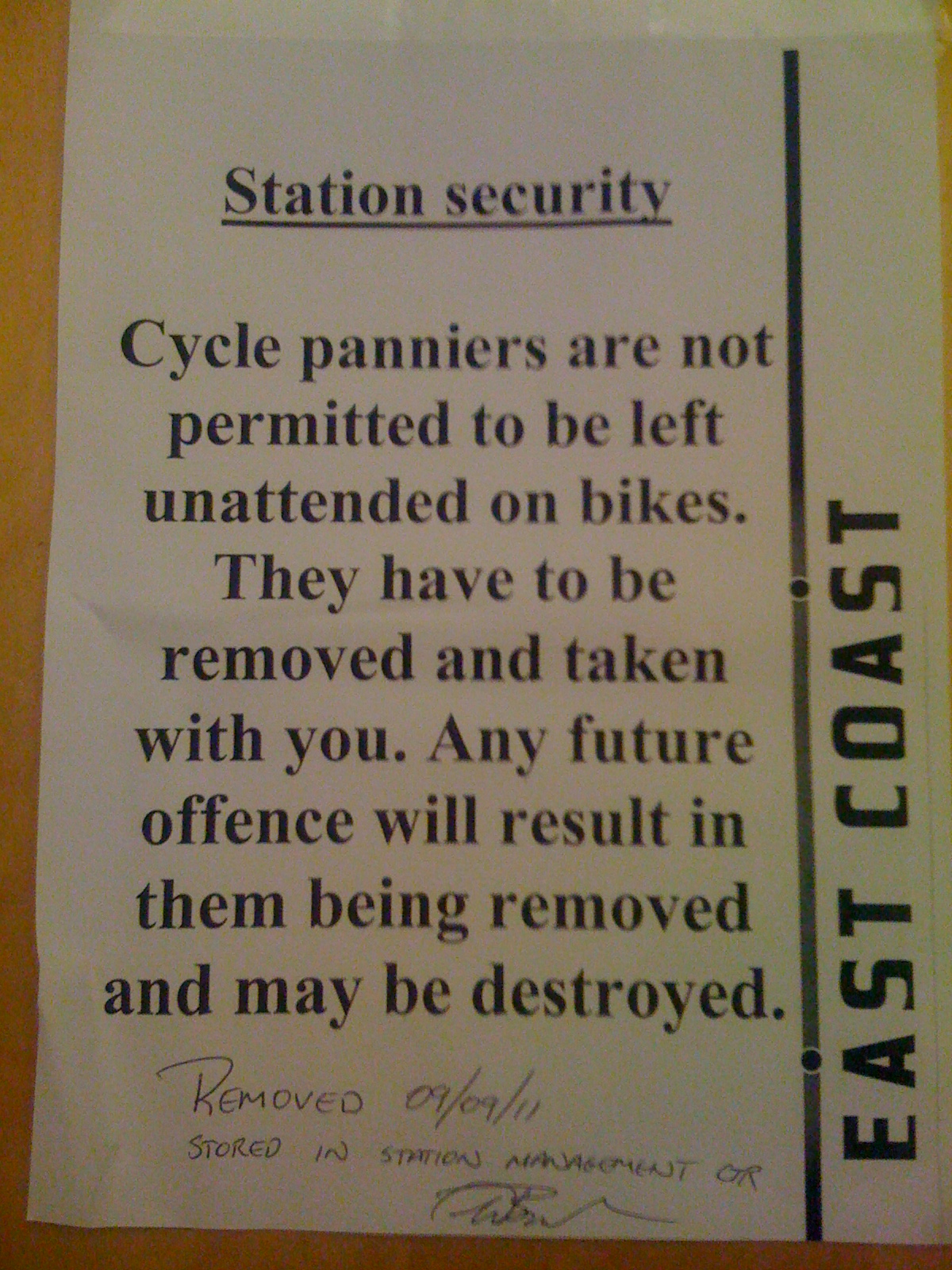 Well that was a relief. Kind of.
So I unlocked the bike, jammed all my stuff onto the rack and headed down to the Station Management Centre. The explanation I got was…
There's a sign
Or maybe there used to be
Anyway. Whatever. Cyclists aren't allowed to leave luggage on their bikes because someone could put something in them

My guess is that this is a security issue, and as such I can sort of see their point

Except that there are also rubbish bins all around the rest of the station, which would probably make a far better place to dump a McDonalds' Meal Deal paper bag full of RDX, screws, washers and bolts than the nearly discrete corner used for the bike racks
Heck - if it comes to that, there's car parking pretty much on the platform. God knows what you could hide in a car parked there
At this juncture, I could start ranting about how unfair, anti-bike, and car-supremacist this all is. But like I said - I can sort of see their point. And I got some important knowledge from the whole experienc:
A few cable ties may be enough to stop someone just lifting my panniers off the bike, but anyone with a pen knife or pair of scissors can make short work of them.
I need a better, more robust way of fixing them on. Something involving steel cable would be good, though in the meantime I'm using a LOT more cable ties. The sort of number that it's technically possible to cut through, but make it clear that a pair of empty canvass bags probably aren't worth this much effort.