New Balls Please!
My fixie's not the newest of bikes. It's a mid-1980s Raleigh Record Sprint that I bought second hand in 1989 to replace a stolen bike. There's quite a thrilling tale of an attempted miscarriage of justice surrounding this purchase, but we're not going to talk about that today.
When I bought it, this bike had a non-original front wheel, and over the year's I've replaced:
The cranks & chainrings (1990)
The rear mech (1990)
The seat post (1991)
The rear drop-outs (1990) (and re-sprayed the frame twice - 1990 & 1995)
The saddle (1991, 2005, 2009)
The headset (1995)
The pedals (2005)
The rear wheel to convert it to fixed-wheel and re-Christened at Trixie the Fixie (2007). At the same time, I

Ditched the shifters & derailleurs
Took off the big chainring
Flipped the handlebars & chopped them down

The frame (2009), which I resprayed yet again, ending up with a black bike again. There was also some gender-reassignment work done, and the bike emerged as George Gordon, Lord Byron.
In fact the only totally original parts on this bike are the brake levers and callipers. Anyway, a couple of weeks ago I did some wheel fettling on it - removing the axles, checking the bearing surfaces, cleaning them all up, re-greasing & replacing them.
While I was doing this, I found that the bearings on the non-original front wheel that's at least 20 years old had passed their best: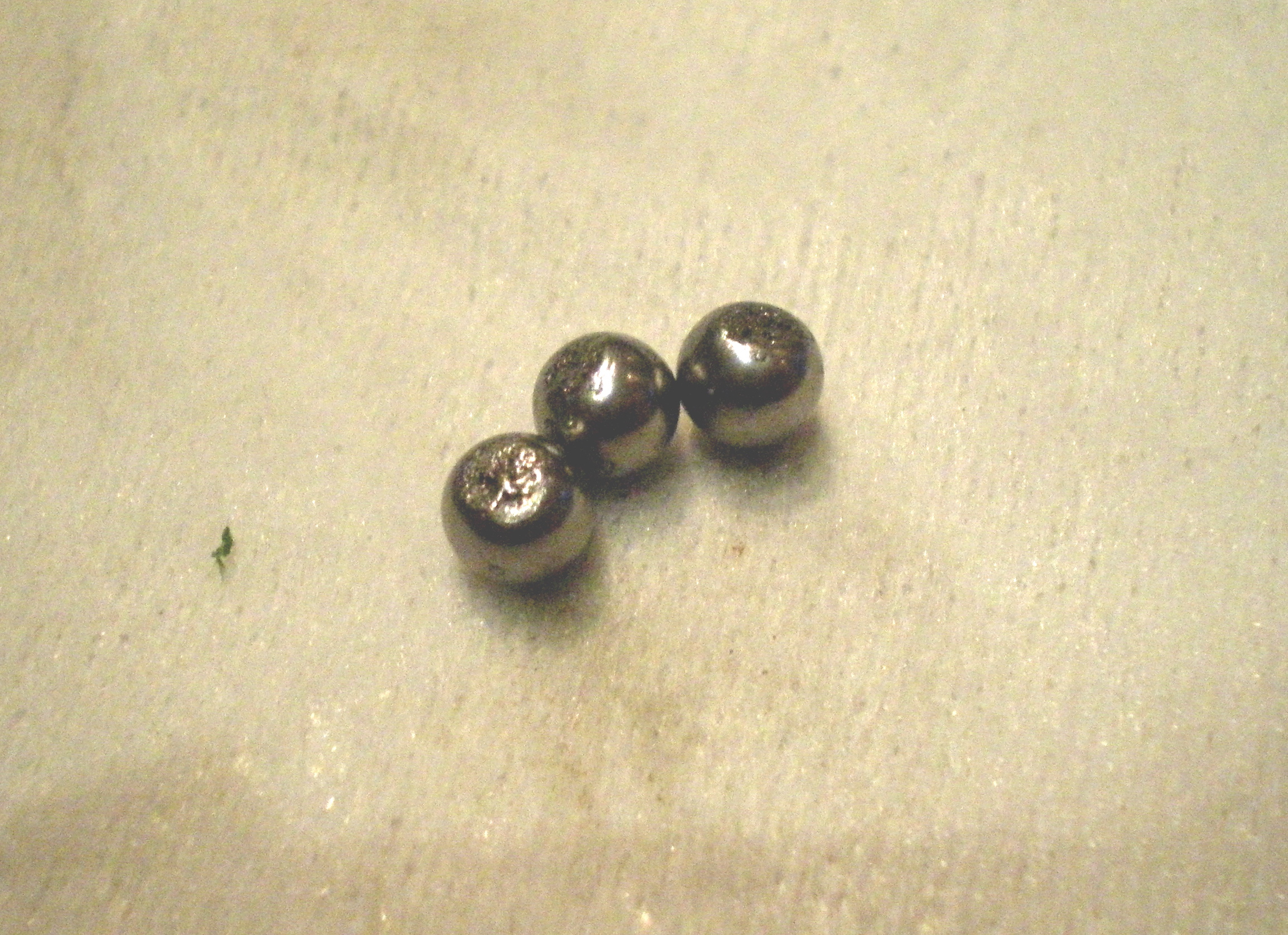 I'm no expert, but I'm sure they're supposed to be round, rather than having flat areas! I didn't have any spares, so I re-greased & re-assembled the wheel, but with the firm intention of getting to the bike shop ASAP.
So yesterday that's just what I did. The trouble is, I get the impression that actual ball bearings with cup 'n' cone axles are a little old-school now. And as I hadn't brought along the originals, we had trouble remembering which size they were and how many were required! In the end, we figured that they were 3/16″ size, and guessed at eleven on each side: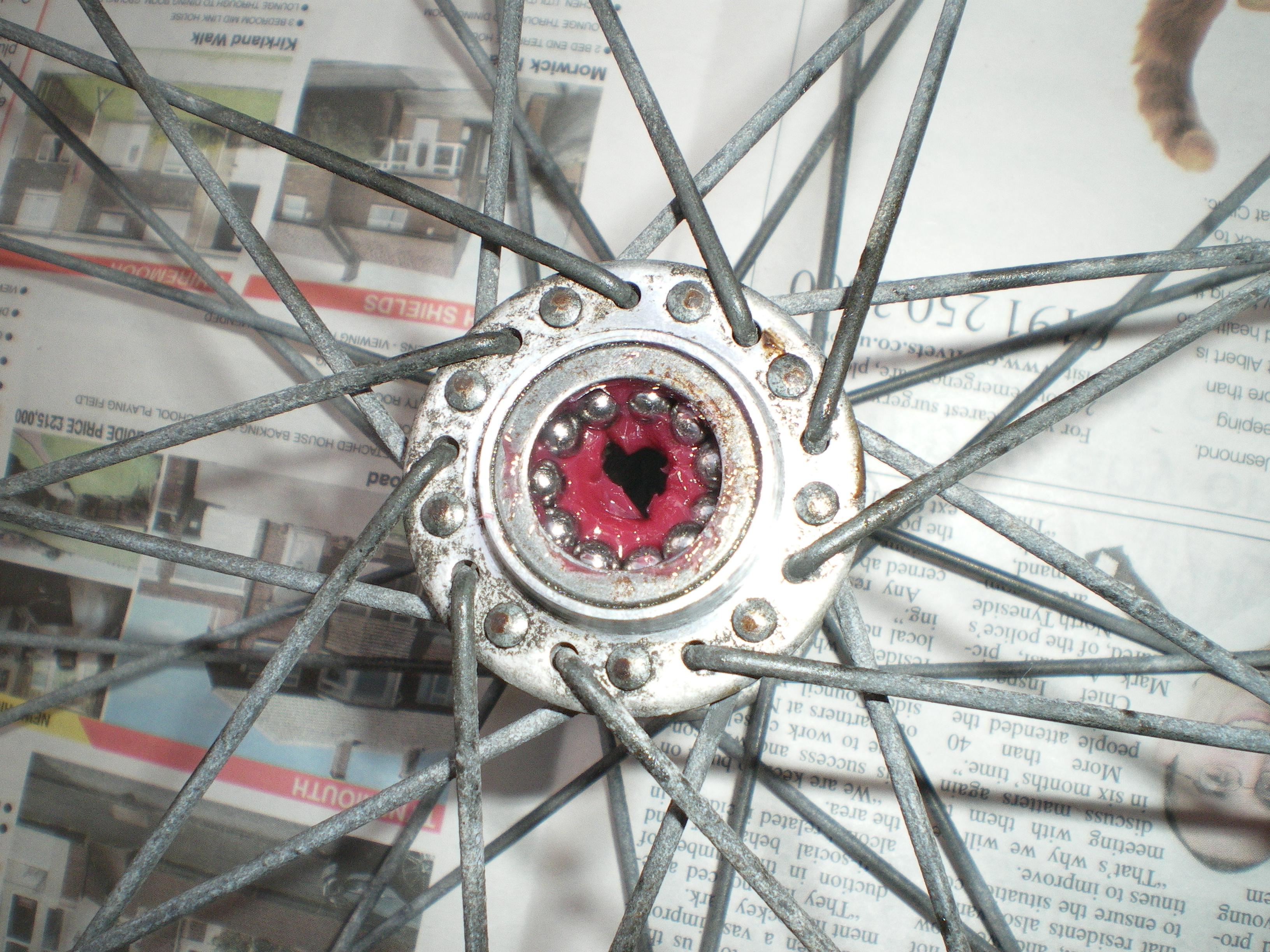 The thing is, while I've been writing this I've had some niggling doubts about that number - I took ten bearings out of each side, and assumed that whoever put them in in the first place had short-changed the wheel. Eleven bearings do fit, and I got the cones adjusted OK, but the number just seemed wrong and that picture looks too well packed. So I've gone to the only resource on the interwebs that's really worth consulting on this sort of thing: Sheldon Brown. Turns out that most hubs do take just ten, and I've got a bit more work to do this afternoon. Just so you know:
Front hubs: 10 x 3/16″ ball bearings on each side
Rear hubs: 9 x 1/4″ ball bearings on each side
Bottom brackets: 11 x 1/4″ ball bearings on each side
If you'll just pass the cone spanners I'll be getting on with that then.