I'm Blaming The Victim Of This One
There must be something in the water. Or maybe that picture of Philip Hammond that's hanging over my desk is starting to have an affect on me. You've got to admit, it's very persuasive, isn't it: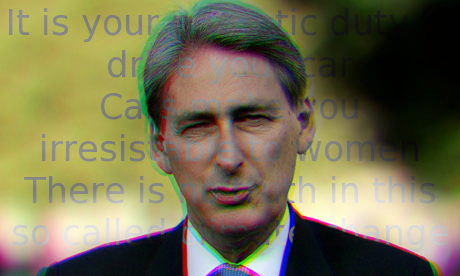 Whatever. Take a look at this:
You'd probably think that this is another one in the long list of helmet camera (OK - bike-mounted camera) recorded incidents of brainless aggression from motorists.
And as brainless morons go, the driver of the camper van is right up there with the best of them - he makes four attempts to ram the cyclist, tries to punch him twice while driving alongside, tries twice to force him to stop, drives ahead and gets out to stand in the road in an attempt to pull him off the bike, and even pursues him through side streets, finding a way around the closed-off road that the cyclist chooses.
Yep. I reckon all this marks the driver of the camper van out as a total wanker. No doubt about it at all.
But watch the video again - this time from the start:
Looks like the cyclist did actually provoke the driver's under-developed brain into this totally onanistic orgy. At the beginning of the video, the driver has thoughtlessly or maybe deliberately pulled over to block the cycle lane. This is the kind of pathetic small victory that inadequate bullies look for. We all know it when we see it, but shouting it in the idiot's face as you ride by seems not to be the way to deal with the problem.
Don't get me wrong - there is absolutely no excuse for the driver's subsequent behaviour, and I really hope that the police throw the book at him.
And yes, I too shout at drivers. But it's the "Ooiii!" that's far louder than any bell that I use to draw drivers' attention to the impending dent in their car bonnet. But anything else? Seemingly going looking for a fight? Maybe I have in the past. But after watching this video, I think I'm just too old for where that obviously leads. As @yenrod said on the Twitters to me just now, "…its dodge-central on UK streets nowadays".
Taking on a car with a bike when it comes to violence - even verbal violence - is like bringing a knife to a gunfight.