Infrastructure Pragmatism
How's this for an argument:
It would be lovely to have the same kind of infrastructure and corresponding levels of cycling as the Dutch do. But let's be realistic - it isn't going to happen.

We can't change the world by wishing it were different, and if we demand something that's as far removed from the British cycling experience as is the Dutch, we'll be laughed out of town AND get disheartened at a total lack of progress towards it.

So it's better to do what can be done. Be PRAGMATIC with the subtle application of the five principals of The Hierarchy of Provision: the odd road closure here, a 20mph zone there, and a bit of carriageway reallocation (a cycle lane) when it's practical to do.
The idea is that through this pragmatic approach we WILL end up with what we want - a much better and safer cycling environment with infrastructure that goes everywhere ("roads"). What could be better to tempt people out of their cars and onto their bikes?
It's a very compelling argument (one that I have in the past been swayed by), and employs the underhand, yet often effective negotiating technique of salami slicing: Through a thousand small concessions, we achieve something that would otherwise have never even been considered.
Yes it's compelling. But it doesn't work: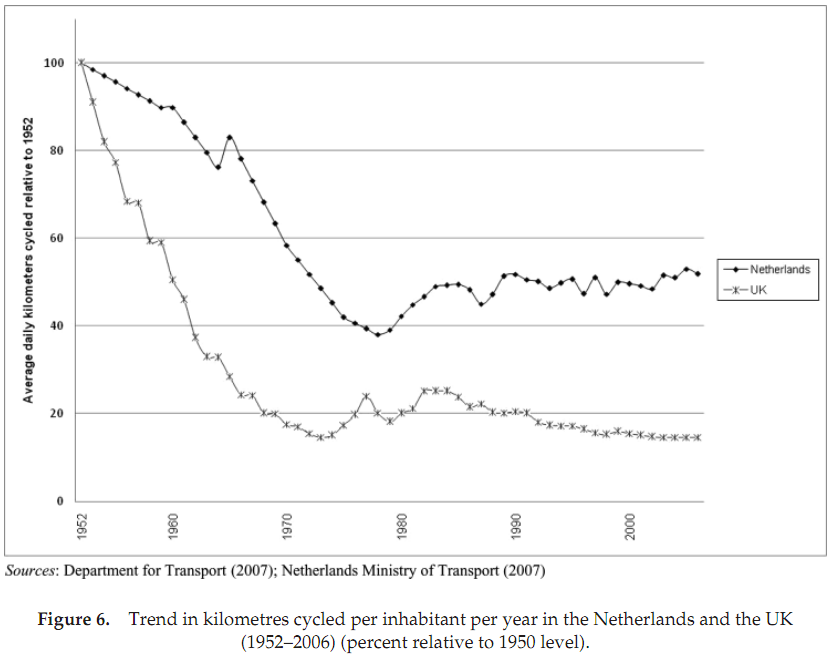 In the UK, that's a drop from 24bn km cycled in 1949 to around 5bn km now - an 80% decline. The Netherlands saw a 60% drop, but starting in the 1970s has managed to partially reverse this - in spite of rising levels of affluence, increased car ownership, and forty years of car consumerist oil-fuelled advertising.
In the UK, apart from a few notable exceptions, we're stuck at around 2-3% of all trips being made by bike. Yet roughly 70% of all trips are less than 10km.
We can wait around for peak oil, peak lithium, or even peak car. In the last few years, some parts of the UK have seen a renaissance in cycling (since 1993, we've had an overall increase from 4bn km a year to 5bn km), but if we're hoping that's going to fix things, then we'll have a further 140 years till we reach the same relative level that they've achieved in the Netherlands. i.e. in 140 years time we'll be cycling 50% of the distance we did in 1949.
No. Business as usual, the tried and tested pragmatism that has defended cycling's red lines (like helmet compulsion, compulsory use of crap cycle lanes, etc) just isn't going to cut it.
So bugger pragmatism.
My background is in science & engineering, where what's easy and palatable to swallow isn't worth a tinker's damn. The only thing that counts is what can be proven to work.
In other words, what we need is an empirical approach:
Find a country that has successfully reversed a decline in cycling, ask them exactly what they did, and copy it exactly - segregation where they'd put it; sharing the road where that makes sense to them; their ideas on traffic prioritisation; their micro projects that make big local changes; and mega superhighways / bridges / whatever where they'd make sense in that country.

If we don't have the skills to understand the full detail of what they did, then we should invite their engineers and planners over to show us what to do, and their politicians to tell us how to change our planning policies to make it happen. We should swallow our pride and follow their instructions.

Oh, and to make this easier, it would probably help if they also generally spoke excellent English.
Does anyone know of such a country?