The Weather Man: He Tells Lies
Maybe I'm just not as fit as I once was. Or maybe that 44×16 is much for me. Or maybe I'm just getting too old. But it's amazing how quickly I'm tiring these days, especially when there's a headwind.
My commute is around 15 miles each way - long, but not stupid long. With fair conditions I can do it in around 45 minutes, and on a really good day, as little as 40. There don't seem to have been many days like that recently - it's the same every morning (wind from the north west), and every evening (wind from the south east).
Worse still, I check the forecast via the Met Office's iPhone app, and every damned time, it says just the opposite of what turns out to be the case. This evening was supposed to be an easy 5mph tailwind. Every flag I passed was streaming straight out from its pole, straining with the wind that was blowing in my face.
Tomorrow there's a tailwind forecast in the morning, and I'll be riding in a gap between showers: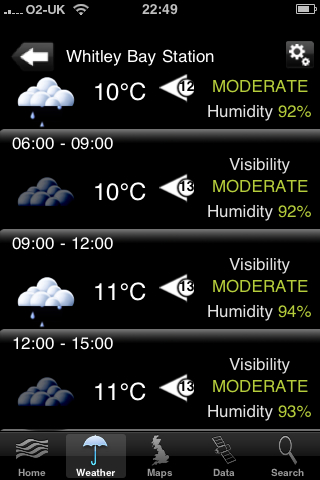 Want to bet with me how that'll turn out in reality?
Bah. It's a good job that riding a bike to work is so much fun. If it wasn't, I could get really disheartened by this!