Friday Caption Contest: TfL Safe Junctions Initiative Edition
As usual, we begin by announcing the winner from last week's competition. Some great entries, but sadly we only had one vacancy for a crash test dummy to fill. So after literally seconds of deliberation we've decided to award the prize to Mikael for his too-close-to-reality entry:
Fox News:
The American auto industry, in association with Nutcase Helmets (I Love Not Having a Brain!) launch their new reality show - Pop Goes the Cyclist. Motorists gain points for popping as many balloons as possible in collisions with cyclists.
Kim's entry came a close second though, and we'll be sending him (if it's 'Kim' as in Philby) or her (if it's 'Kim' as in Wilde) some Cycling Embassy of Great Britain approved bagels from the next batch for this:
New cycle air bag system to be sponsored by the AA, plans are already being laid to hand out free balloons to cyclist in London.
All of which brings us neatly on to this week's caption contest. TfL and its Oberbumblingfürher, Boris assure everyone that the streets of London are perfectly safe for people on bikes. The intermittent blue paint along London's busiest roads is a fantastic way to tempt people out of their cars, that Blackfriars needs to mix buses & lorries at 30mph with Boris Bikes at 8mph, and that the Elephant & Castle is perfectly manageable by bike.
That's all perfectly easy for him to say: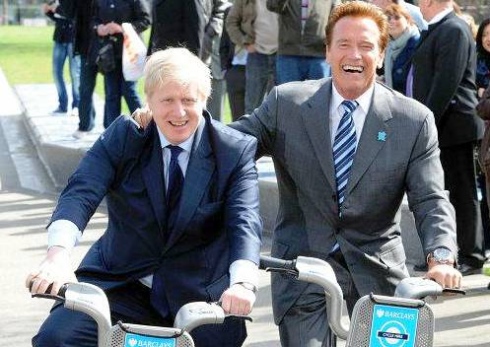 This week we've got a fabulous prize for the best caption to this photo - your very own Terminator.
Good luck!