The Night I Became Invisible
A few weeks ago I got a new a front light. It's one of those SSC-P7 LED units that turns night into day when you're riding out in the country, and has a strobe setting that I use in town, and defy any driver to claim he hadn't seen. From about a mile away. Even if they'd approached me from behind.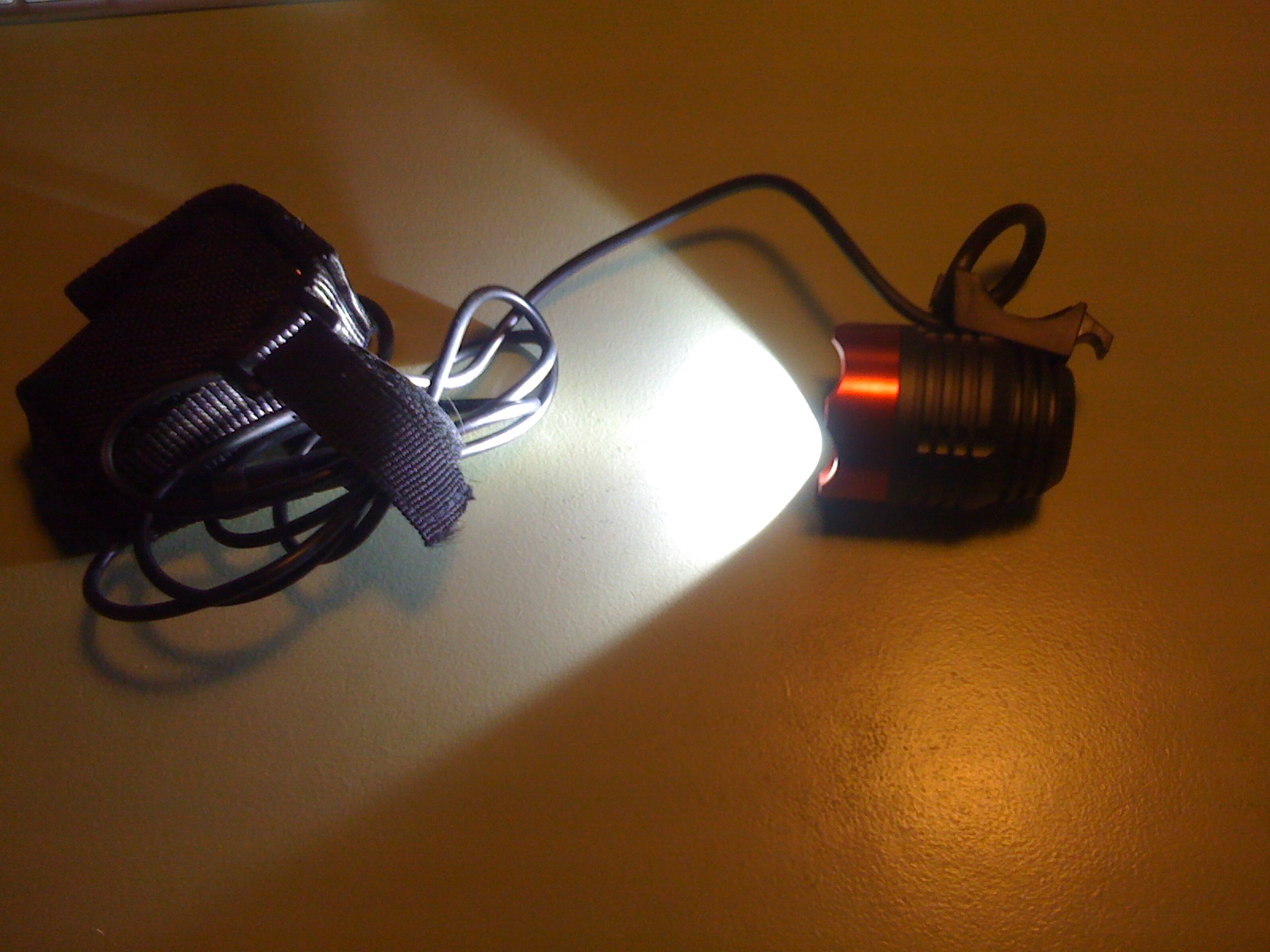 Anyway, I was using this on the Pashley on Thursday - I had a breakfast meeting that started at 7:30, and used the cross-country route through North Tyneside's Waggonways to get there. Full beam on the lamp for most of the journey. Then up to Ashington for a day in the office, and then home again. The first couple of miles were in town, so I was on the strobe setting, then once I got past the Earth Balance Centre, I was on one of those dark, scary roads that drivers like to take the speed limit as a minimum rather than maximum target.
So I was on full beam again, and admiring the way I seemed to be at the apex of a cone of light that extended all the way to the horizon, when… phut! The LED lamp went out. I stopped, jiggled with the switch, checked the connection to the battery pack, but nothing would restore the light. (I later found out that the battery just needed charging - I'd used it for the previous two days without re-charging).
Bah. Good job I was on the Pashley, which also has a hub dynamo powered front lamp. Normally it seems pretty bright, but after the LED it was like riding by candle light. So I carried on into Blyth. By this time I was pretty tired, having already ridden 30 miles on a heavily laden, upright bike, that was now facing a headwind. So I wasn't exactly speedy, which may account for what happened next.
At the bottom of Cowpen Road, there was a bus coming the other way. Naturally, the lorry behind me wouldn't overtake until the bus had passed, would they? Wrong - it was one of those passes that were so stupid & unexpected that I'd never even attempted to block. I mean really, who would be so mindless and totally moronic as to overtake in such a position?
Then a couple of hundred yards later there's a mini roundabout, where I go straight on. So did the car behind me, overtaking me through the roundabout, despite the oncoming traffic and forcing me to make a big panicked swerve for the kerb.
Two in two hundred yards. Maybe there was something I was doing wrong? I stopped to check that the bike's back light was working. Yep - despite running for nearly three years on the same batteries (I must make sure I'm carrying spares), it still seems as bright as ever. My panniers still had their Scotchlite strips all over them, the pedals still had their reflectors in place, and the tyres still had their reflective sidewalls.
Hmmm. After the first near miss, I'd opted for a more assertive position. Maybe I just needed to take this up another notch?
Then half a mile further along the road, I came to The Broadway roundabout. This is a big, two-lane roundabout in the middle of a residential area. As I was going around I could hear the car closing in behind me. As I took the middle of the lane through the exit, he was right on my tail, and then as I pulled over when the road widened out, roared past so close that I could see every blackhead on the pram-faced passenger's nose.
There's yet another roundabout 400 yds on, and I had a fourth driver overtake and cut in on me at the last minute on the approach.
I'd had enough of this, and took to the off-road cycle route for the rest of the journey home. It was slower and meant that I had to give way at every side road, and had to put up with the bumpety-bumpety surface. But at least I'd get home alive.
So what was happening? The route through Blyth can be a bit unpleasant, but it's never usually this bad. The only thing I can think of is that I was just too slow:
"Racing cyclists know well the benefits of having a high cadence, but there can also be important safety advantages for everyone. Generally speaking, you are at your safest in traffic if you can move at a speed comparable to that of the other vehicles. Increasing your cadence and sprint speed will allow you to achieve this more often, particularly at those places where it matters most - junctions with complex manoeuvring….

…A good cadence to aim for is about 80, while a sprint speed of 32 km/h (20mph) will enable you to tackle most traffic situations with ease."
This is all very well, except a sprint speed of 20mph is actually quite quick. I'm young, good-looking and fit (OK - I'm one out of those three), but after a good few miles on an upright, laden bike and faced with a headwind I was nowhere near that speed. I'm pretty sure that Wife doesn't have a sprint speed that would enable her to tackle most situations with ease, and I'm pretty sure that Daughter would also struggle.
Its no wonder that so few people ride bikes in this country.