This is MY Brompton. There Are Many Like It, But This One Is Mine.*
My favourite bike is always the one I'm riding. But for sheer game-changing versatility, the Brompton is a winner. Mine generally lives under my desk at work, and means that I can get around town visiting clients in my 5 x 6 mile patch of Northumberland without having to turn up dressed as Lycra Man ("See his bulge of power!") - I can reserve that for frightening the horses on the 15 mile ride to and from home.
For evenings out, the Brompton is perfect - Ride to the pub, fold it up and take it in with you. When it's time to go home, if you can unfold it, you're sober enough to ride it. If not, just unfold the handlebars and tow it like a suitcase with wheels.
And it's also pretty damned useful for trips to the shop for the odd pint of milk / loaf of bread - I modified an Ortlieb office bag to go on the front, and at 22 litres, that's plenty big enough for emergency groceries.
My Brompton has been "pre-loved" (i.e. I bought it second hand), and is around 8-10 years old. It's one of the last T5 models, with a five-speed Sturmey Archer hub and slightly shorter reach than the modern versions. I wanted a white one to match our other small-wheeled bikes, and so ended up paying over the odds for a bike that needed a bit of work doing - new chain, replacing the main hinge bushes, stuff like that. It's still got a couple of things to get done, but for now it's very ridable, and is something that never fails to attract comment - especially when people see it transform to or from its folded state.
---
*A big massive hat-tip to
Charlotte Barnes for the title & subject of this post that I'm shamelessly ripping off
. In fact I was so impressed with it that I've started a
Flickr Group - "This Is My Brompton". Feel free to add your own photos
.
The title actually comes from this sort of thing: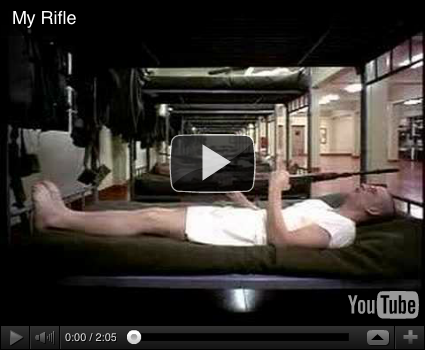 … or with a more bicycle-oriented theme: