Exclusive: Bankers & TfL Join Forces On The Street
**5th December 2011 - FOR IMMEDIATE RELEASE**
CITY BOSSES are keen to show that they're in it with the rest of us.
Senior bankers have joined forces with the leaders of Transport for London to show that they're really in touch with things at 'street' level. So they're forgoing the comforts of luxury cars and taking the bus to work this week.
Their specially chartered bus will take the scenic route through London's most attractive junctions:
St George's Rd/London Rd/Elephant & Castle
Clapham Rd/Kennington Park Rd/Camberwell Rd
Strand/Northumberland Ave/Whitehall
Waterloo Road/Stamford St/York Rd
Mansion House St/Princes St/Threadneedle St
Elephant & Castle/Newington Butts
Hyde Park Corner, Westminster
Millbank/Lambeth Bridge
Clerkenwell Road/Farringdon Rd
Albert Embankment/Kennington Lane/Wandsworth Rd
The Bow Roundabout
Yes - these chaps really do understand the plight of the common man, such as one would find on the Clapham Omnibus!
But you needn't think that their bus will be adding to pollution. No indeed -  Current Mayor of London Boris Johnson won't have to fret over how much more this one will contribute to the huge overshoot in air quality standards.
AND it provides an income for some less fortunate families, whose children will also be helping to combat the nations obesity epidemic: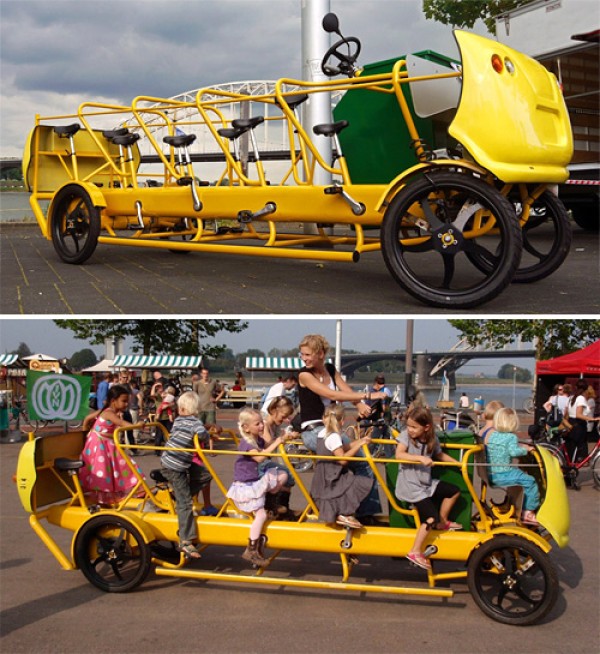 **ENDS**
I foresee one or two small problems with this…