"Superhighways are Practically Meaningless"
I've just spent a depressing half hour listening to the Guardian's Focus Podcast - Are Britain's Roads Safe For Cyclists?
The answer is of course, "Yes, but…"
Statistically, cycling really is pretty safe. Yet time and time again, those locations which are more dangerous are treated with lowest common denominator thinking that's always slewed in favour of motorised traffic. The one that always gets me is roundabouts - the most bewildering and alarming of features for most cyclists. And yet the default options for traffic engineers when faced with a cycle lane that needs to get through a roundabout seem to be: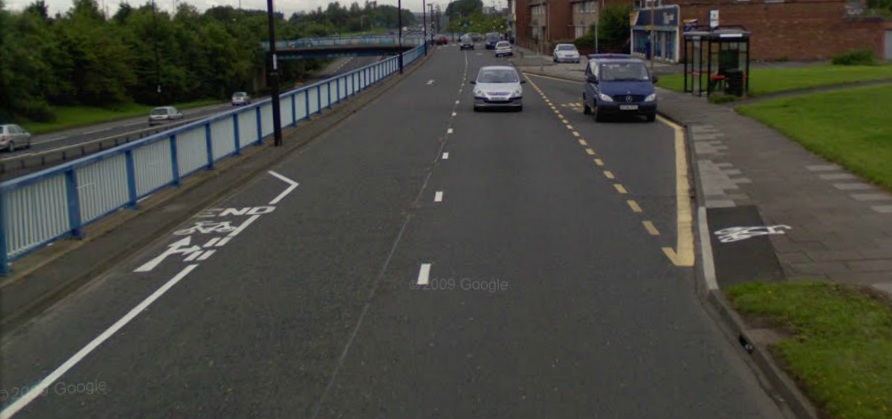 Just have the cycle route end
Divert the cyclists onto a mystery tour: signpost them to cross the road / join a path that seems to go at 90º to their original route, but then don't bother with any other signage to explain how to get back on track
Install a byzantine labyrinth of toucan crossings. Make sure that cyclists (and pedestrians for that matter) have to wait at every single one of these, thereby destroying any queue jumping, flowing-like-water advantage they might have had.
Quoting from the podcast:
James Randerson: "The superhighways are practically meaningless, frankly. I mean they do nothing. They're just blue strips painted on the road. They provide no protection for the cyclist at all. They're pointless, and also there are locations on these superhighways that are well documented, where they run out, then they start again. They're jus pointless; they're just, you know, a way of seeming like action's being taken, when really nothing is."

Hugh Muir: "Don't they even help in terms of the psychology of drivers?"

JR: "Um… I doubt that very much."
There seem to be two problems with government thinking that has led us to this position.
Firstly, there's the issue that Sustrans' Jason Torrance covered in the podcast: While you or I might get excited about just getting a new bike, spending on even significant levels of cycling infrastructure just isn't big enough for central government to take seriously. The entire budget for Cycling England was £60m per annum, and it had a full time staff of just five. Compare that with Crossrail (£15.9bn), widening 22 miles of the M25 (£3.4bn - a snip at just £9,700 per metre), HS2 (17.7bn), or a new London airport that would dwarf the environmental damage done by its neighbour, Kingsnorth power station (£50bn).
All of these projects result in a single, shiny thing being built that a minister and his Permanent Secretary can point to and say, "I did that". A cycling project to change the nation would take longer than any political career could last, and would be seen in tens of thousands of small changes of junctions and streetscapes. Hardly the sort of thing to that the Prime Minister can use to garner Daily Mail headlines with which to batter the opposition at PMQs.
So it's left to Mike Penning (pictured above, centre), the Road Safety Minister (who was unfortunately too busy to take part in the Guardian's podcast) to issue a statement that trumpets the government's £11m for Bike Ability training (enough for 1,132m of M25 widening) and the £560M Local Sustainable Transport Fund, which includes many bids to support cyclists. I'm a huge fan of LSTF, but what Mike Penning's statement fails to mention is that bids now have to focus on employment & growth rather than sustainability.
Secondly, the Department for Transport seems to be singularly incapable of planning for the future, or displaying any kind of leadership as to what that future should look like. So yet again, with schemes like the widening of the M25 (and I have no doubt that this will eventually include the whole of the M25), they're engaged in predict-and-provide craziness that assumes linear growth. The reality of induced demand means logarithmic growth that you can never keep pace with.
The DfT's idea of leadership seems to be to look at how people get around now, and then to try to plan for a future that's just the same, only bigger. It's a bit like the quote that's oft attributed to Alexandre Ledru-Rollin when caricaturing the French Revolution:
"There go the people. I must follow them, for I am their leader."
What we need is genuine leadership DfT or their elected masters to come out and say, "We want 35% of trips in the UK to be made by bike, and 30% by foot, and will only support projects that support these aims."
Until we get something like that, don't expect any real change in that 1.5% number.