Is It Safety In Numbers or Numbers In Safety?
I was reading the Bicycle Federation of Wisconsin's hilarious post today about the European Cyclists' Federation fantastic report on the relative carbon emissions of different forms of urban transport.
Part of BFW's post included a graph of relative cyclist safety, % of trips by bike, and the % of cyclists who wear helmets.
I used their data to produce my own version of the Safety In Numbers Effect graph, that's so popular with some people: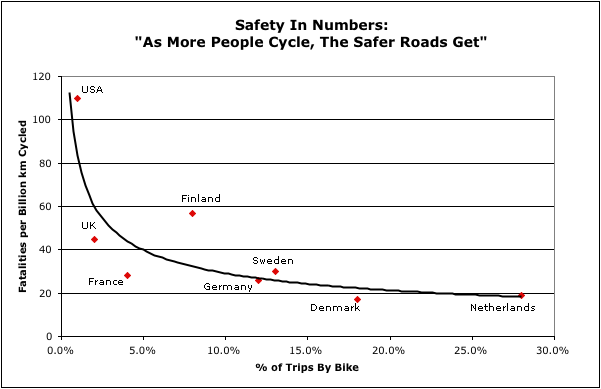 People infer from this that when you get more people cycling, the roads become safer. The logic is that since drivers are more accustomed to seeing bikes (and probably more drivers also ride regularly), they know how to behave around cyclists.
The problem is that this logic assumes a cause and effect in one direction:
"More people on bikes causes it to be safer to ride"
But what if it's the other way around?
"When it's safer to ride, more people get on their bikes"
We can see how getting the cause and effect the wrong way round might lead you to incorrect conclusions by looking at another cycling safety graph: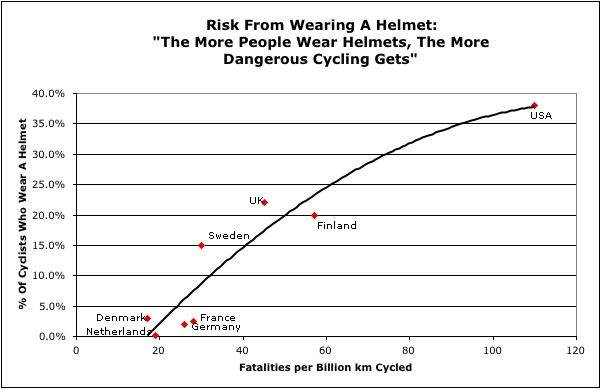 You'd probably be tempted to draw one of two conclusions from this. Firstly, you could add what you know about the road conditions in these countries, and conclude that
"In countries with roads that are most hostile to cyclists, more cyclists wear helmets"
But an alternative take on the graph could be:
"The more cyclists are wearing helmets, the greater their chances of being killed. So helmets must CAUSE cyclist fatalities"
Clearly one of those conclusions sounds plain wrong, counterintuitive, and against all common sense. The problem is that our common sense is based on the things we see around us all the time, yet don't question, and to a large extent the groupthink of whatever crowd we're in.
When you put it to the test, common sense sometimes (often?) turns out to be utter nonsense.
So next time someone tells you about the importance of the Safety In Numbers Effect, stop, just for a minute and ask how they know which way round the graph should be interpreted.
Oh, and before you ask - no, I don't know the answer to that one.