Friday Caption Contest: Mystery Component Edition
Before we begin, a jolly big "well done" to all of you who entered last week's contest. The clear winner was Tlatet, who correctly identified that this was an escaped maths lecturer from the Open University. But most of the rest of you did really quite well, so you have permission to go for a ride this weekend. Wrap up warm, and look out for those potholes.
Sadly, two entries broke the rules (You. Know. Who. You. Are, and we're really VERY disappointed in you), and deliberately misconstrued the competition's judging as anything other than the opinion of a sad middle-aged man, who sometimes really can't be bothered to count the angels dancing on a pinhead, and just wants to marvel at their infinite beauty. The pair of you will do me lines as punishment, while everyone else is out on their bikes tomorrow.
I want fifty lines from each of you:
"I must not get so far up my own saddle-sore encrusted back-side without the use of a proper lubricating chamois creme"
…or there'll be no cake for you when everyone else gets back.
All of which brings us nicely to the subject of this week's competition. Our chaps in New York have identified that locals seem to be using cycle components that are NOT UCI-approved: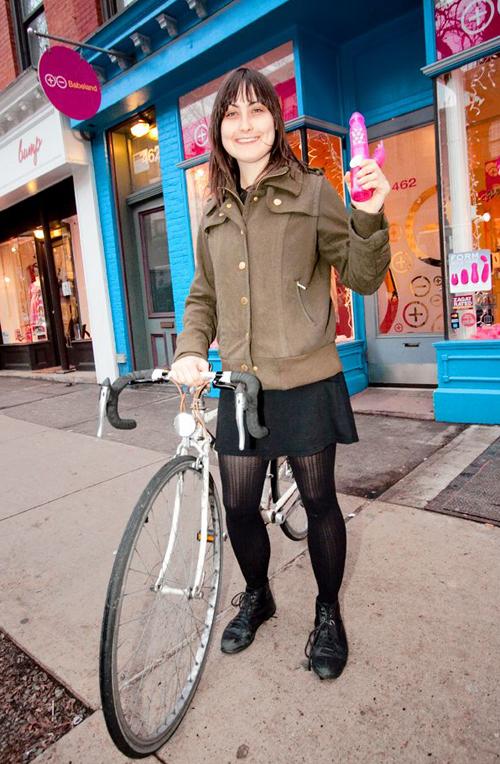 I have no idea what this is. If anyone has any idea what this component is for, do please let us know - remember with your suggestions that cycling is a clean-living healthy activity, and anyone on two wheels is as pure as the driven snow. Sort of.
The most accurate / the funniest / the one that I just feel like picking will win this week's fabulous prize: You'll be personally fitted with a set of Specialized Zertz vibration-damping inserts. It's alleged that these give a smoother, more vibration-damped ride, but that might just be marketing flim-flam and waffle-dust. Perhaps the winner could tell us?