Friday Caption Contest: Cycling Superhighway Blue Edition
Before we start, I'd like to thank everyone who contributed to last week's caption contest. It was so good to see you all raising the tone of the debate. Sadly, there can be only one winner. This week our panel of judges decided that Dr C's entry made us laugh hardest, as it was a salient reminder of what gets decided when you're not in the room:
So we're agreed then?

Yes, we have authorised our forces to deploy nuclear weapons.
This week's competition is a photo by Pejman Faratin that appeared in "Metro" (the paper, not the no-bikes local train operator) takes us once again to That London. It's a fine example of what happens if you don't get out of the way of Boris' Blue Paint team, who're making London safe for everyone who keeps their wits about them: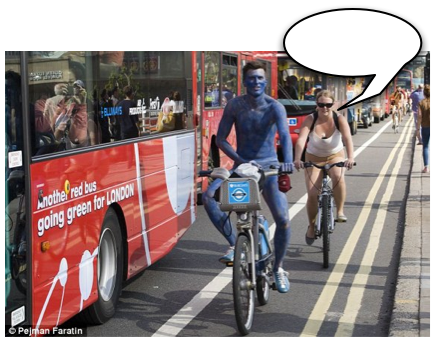 The obvious question is, what's the woman behind saying?
This week's prize comes courtesy of our comrades in Scotchland - a big tub of woad, which you can use to re-create this photo where you live.
Good luck!