Class. Action. Lawsuit.*
Yesterday, Mikael from Copenhagenize.com posted this Tweet: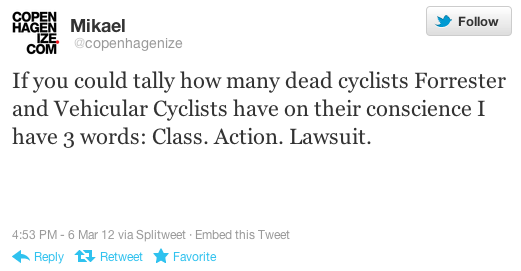 The thing is, I don't think he's right on this. The War On The Motorist is a pretty one-sided affair, and anyone who'd not been through basic training in the guerilla warfare it entails is likely to end up a statistic.
Where the problem lies in in promoting Vee-hicular cycling as the ONLY way to do it. Worse still, is promoting this to governments without the crystal clear message that this is nothing more than a survival strategy for the 1-2% of "enthusiasts".
We could see a ten- to twenty-fold increase in cycling in the UK, if the conditions were changed. That means making it harder to drive places, and easier to cycle. Streets need to become significantly traffic-free, and where that's not possible, then visibly safe, continuous and direct traffic-free alternatives need providing.
These are tough choices, and unless they're put forward as the only way to change the number of people using carbon-neutral, flowing-like-water bicycles for transport, they'll be dismissed out of hand. If the message is that "cycle training works, but could we please also have a little consideration in street design if that's OK with you", then all we'll get is more of the same.
More of the same means that cycling will remain fundamentally unattractive to the 30-40% of the population who could easily make the switch. These are the people who are in the vanguard of the nation's obesity epidemic, and these are the people most seriously affected by the current conditions.
Because even allowing for the risk factors in cycling, people who ride bikes still live longer and in better health than people who don't. But unless we change the conditions to get these non-cyclists pedalling, they'll remain the true victims of Vehicular Cycling.
If anyone should sue, they really should.
---
*n.b. I'm not a lawyer, don't even play one in a TV sitcom, and have no idea what a "class action lawsuit" is, other than something that I've seen mentioned on American TV shows.