C2C - Coast to Coast In A Day
The plan was simplicity in itself: Tall Robbie and I would get the train across to Whitehaven on Friday evening, B&B overnight, and then cycle back on Saturday. Somewhere between 130 and 140 miles, with around 10,000ft of climbing in the last days of winter.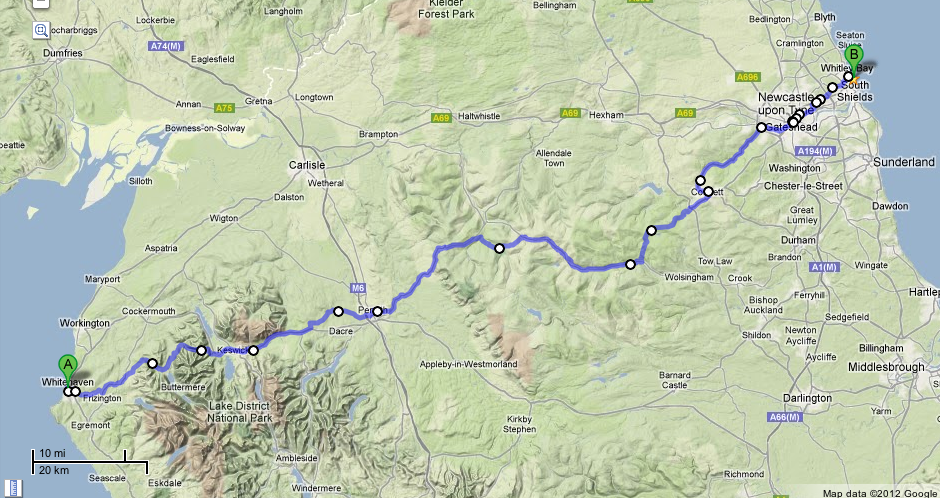 What could possibly go wrong?
Seeing as the plan was to do it all in a day, we were travelling light. an extra T-shirt or two for each of us as extra layers if needed, some shorts for wondering around the B&B without scaring the other guests too much, rain jackets, winter tights, socks, clipety-cloperty shoes, a stack of food and some tools.
I'd also put the tri-bars back on my road bike as a holder for the map:
Getting to Whitehaven was supposed to be easy - Robbie had hired a car to drive to our house, and from there we cycled into Newcastle to get the train across, changing at Carlisle. The second train was late and the platform cold. We all got on. We all got off. The train disappeared up the tracks and came back to a different platform. It left again, and eventually returned as a single carriage - not so much a train as a bus on tracks.
So we eventually got into Whitehaven at around 9pm, and it was cold and pishing down. Finding your way around an unfamiliar town in the dark and rain is not easy - at one point a police car pulled up to offer us directions (for our own protection?).
The B&B was fine - "inexpensive" (cheap. Very cheap.), with secure storage for the bikes, and after dumping our bags, we headed out for a pint of carbohydrate based sports drink and some food. Everyone in the town seemed to be staggeringly drunk, while we were staggering around on our cleats, so we grabbed kebabs and headed back to the room for an early night.
6:30 breakfast… and we were off:
We decided to mostly follow the official C2C route, and the first dozen miles were completely off-road along a tarmac covered railway track. About the route - it's definitely worth getting hold of the official C2C map as its the perfect size & scale for this trip, and makes it easy to pick out where you should be:
The roads we used were for the most part deserted, and the views through the Lake District worth getting up early for.
We got to Penrith in time for elevensies. Unable to locate the Penrith Tea Rooms…
we headed for Morrisons, where we were served tea and cake and sandwiches for £1.69 each - bargain!
Then it was up to the top of Hartside - a climb of around 1600ft up the side of the Pennines. The official route takes a minor road, but our legs were already starting to feel it, so we opted for the main A686. It's a longer climb, but at a consistent steady gradient, and at this time of the year there aren't too many suicidal motorcyclists on it.
From the top, you can see for ever:
One of Robbie's colleagues had told him that if he got to the top of Hartside, it was all downhill from there. He'd been lying though, and we found an unexpected 20-25% hill coming out of Garrigill (it's not even marked on the map as a hill!). By the time we'd got to the top, we were both in a Bad Way, and needed a fairly long rest & lots to eat & drink.
A few miles down the road, we had a joint hallucination - in the tiny village of Nenthead, there was a bike shop. It seems that other people have seen this too:
Robbie bought a stack of gels & powerbars, and the owner talked us through the rest of the route. Rather than going the official way, he advised that we stick to the A689 all the way to Stanhope. It was a bigger, steeper climb to start, but an easy 14 miles mostly downhill after that, instead of the official route's saw-tooth profile.
He was telling the truth about that initial climb (18-20% ?), and for the second time in the day we had to get off and push. When we got to the top, the clouds had closed in, and as we wolfed down some more food, the SNOW started.
Time to lose some altitude, and quickly. Within a half mile or so, the snow had turned to rain, and thankfully the road wasn't too twisty, so we could maintain a good pace.
Getting up from Stanhope involved another swine of a climb, but once we got to Parkhead Station, it really was (mostly) all the way downhill from there. It was dusk as we reached Consett, so out came the lights. Going down Blackhill in the dark, on a wet road, when you're completely knackered wasn't as much fun as you'd think.
We got into Gateshead to find the Millennium Bridge open, and then in punishment for me feeling so smug about the lack of visits from the P*ncture Fairy, Robbie got a slow flat as we went through Byker (it just needed a bit of air put into the tyre three times to get us those last 9 miles home), and I got a flat at Silverlink - just four miles from home.
Here I discovered that my preparations hadn't been what they could be, as the two spare tubes I was carrying were both useless. One was for a Brompton, while the other was patched… but one of the patches had come off. All completely fixable, but I was just glad that Robbie had a nice new one to save the hassle.
After we got home and showered, we had some food, a tin of carbohydrate-based recovery drink, and pretty much fell asleep at the table.
Thoughts about the C2C:
Neither of us had shown this route the respect it deserves. We've both done Ironman races, and just as in our heads, we both still 18 years old, we also think of ourselves as Ironman fit. Except that took a year's preparation, including six months of really hard training.
If you cycle regularly (regular cycle commuter?), it is do-able in a single day though, but it's really tough. Without specific training for this ride again, I'd do it over two days.
Nutrition. When you do events like Ironman, you're pretty much eating & drinking constantly from when you get on the bike - my mantra is "drink every ten minutes, eat every twenty". We both forgot this, and seemed to assume that a kebab the night before, a hearty fried breakfast and some cake would do the trick. It really doesn't.
You spend a lot of time in the middle section fairly high up. It's a lot colder than at sea level.
We had a gentle tailwind pretty much the whole way, and only about an hour's rain. Doing it into a headwind and rain the whole way would be folly - if that's the weather forecast, I'd re-schedule for another day.
The views and roads are stunning.
It is a Long Way.
There are Many Hills.